01st May 2014
Community history event 9 May 2014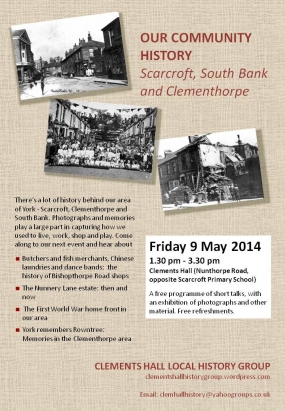 Our next event is on Friday 9 May 2014, 1.30 pm – 3.30 pm at Clement's Hall (opposite Scarcroft Primary school). This is a free programme of short talks, with an exhibition of photographs, old maps and other material, and free refreshments.
Susan Major is exploring the intriguing history of the Bishopthorpe Road shops over the last hundred years, featuring Chinese laundries and dance bands. Anne Houson will talk about the Nunnery Lane estate, built as social housing for the city in 1969 to replace what had once been a tightly knit, densely populated area of Victorian housing.
Dick Hunter has plotted on a map some of the war dead from our part of York, and is using family records such as correspondence and photographs to develop our knowledge. Bridget Morris is focusing on Clementhorpe, gathering oral histories and memories of what Rowntree means to the people of York.