Stephen Lewis reported in the Press from two eye-witnesses to the damage in Nunthorpe Grove, following his recent features about our book.
Ronald Coulson grew up in South Bank and remembered seeing the Halifax crash. "I was nine years old," he said. "There were four or five of us at the corner shop on Victor Street. We heard this 'bang!'. We looked up and could see this plane, going around in the sky and coming down. It was on fire. We went up onto the bar walls and saw it go past Nunthorpe Road. Then there was a hell of a bang. Afterwards we could hear a sound like machine guns going off. It was quite loud. The guns and bullets in the plane had caught fire. It was quite frightening."
Ronald also remembered the
 

York

 

Blitz of 1942. He lived with his family in Victor Street. There was a cupboard under the stairs. They huddled there when the air raid sirens went off and at one point heard the distinctive whistling sound of a bomb seemingly falling straight towards them. "It was very frightening!" Ronald recalls. The bomb missed them - but hit the Bar Convent instead, killing five nuns.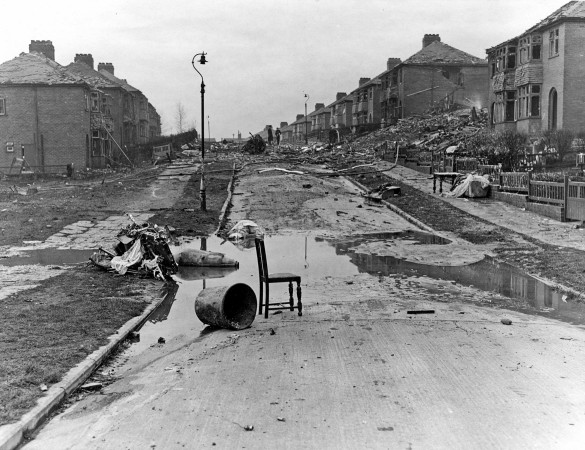 Damage to Nunthorpe Grove in 1945 (Hugh Murray)
Another reader, David Thomas, also remembered the bombing of 1942 and the aircraft crash three years later. Three bombs fell on the Nunthorpe estate on April 29, 1942," he said. "The first totally demolished 19 and 21 with 23 and 25 being badly damaged and pulled down afterwards. The second bomb fell in the garden of our house (number 41), destroying the back of 39 and 41 but this was rebuilt and we returned home in October 1942. The crater was filled in later. The third bomb demolished a pair of semi detached houses in South Bank Avenue."
A fuller account of the 1945 disaster can be found here.
Darran Walker tells us that he still tends the grave with flowers at Fulford Cemetery (1/Q/16) of one of the rescuers in the 1945 disaster, Soldato Natale Giovacchini, who was an Italian PoW, aged 36.
South Bank Social Club
A. J. Peacock suggested that the Chapman family were very much involved in the creation of South Bank Social Club - William Chapman De Burgh and his sons John Cooper Chapman De Burgh and Arthur Edward Chapman De Burgh. York's two MPs were said to be frequent visitors. Members were allowed to run up a slate of 2s 6d a week and apparently it did great business when Buffalo Bill's Wild West Circus visited the Knavesmire in 1904. In 1910 it had a membership of 410.
Temperance agitation
Again from A. J. Peacock: In 1903, for the third time, J. J. Hunt & Co. applied for four outlets (two pubs and two off-licences) on the Bishopthorpe Road Estate. An objector was John Richard Swales, who, in a remark that aroused no comment in those more innocent days, said 'he took a great interest in the young men of the district' and thought a pub in a area was the 'first step to slumdom'. Councillor Vernon Wragge said 'that if J. J. Hunt was refused permission to build pubs again, they would get round the law and build a club'.
At the end of the 1903 sessions, the Temperance reformers said they had achieved a considerable victory. The bench turned down both the wet and the dry applications for the Bishopthorpe Road area, so condemning the inhabitants there to a walk of half a mile or so to get a pint (or two).