04th December 2019
A new shop on the street: King of Vapes
The latest arrival on Bishy Road, leading to much discussion, is King of Vapes, opening at no.31, formerly Hopscotch, which closed earlier this year. It's a vape lounge, offering electronic cigarettes and liquids as tobacco substitutes, which people can buy and sample in the lounge.
Bishy Road has sometimes been criticised for its growing 'trendiness', attracting middle class consumers, and the new shop might be seen to redress the balance a little.
The new trader is Zak, with his sister and business partner Gemma. She manages their shop in Acomb, Kings Lites. George is the shop manager on Bishy Road.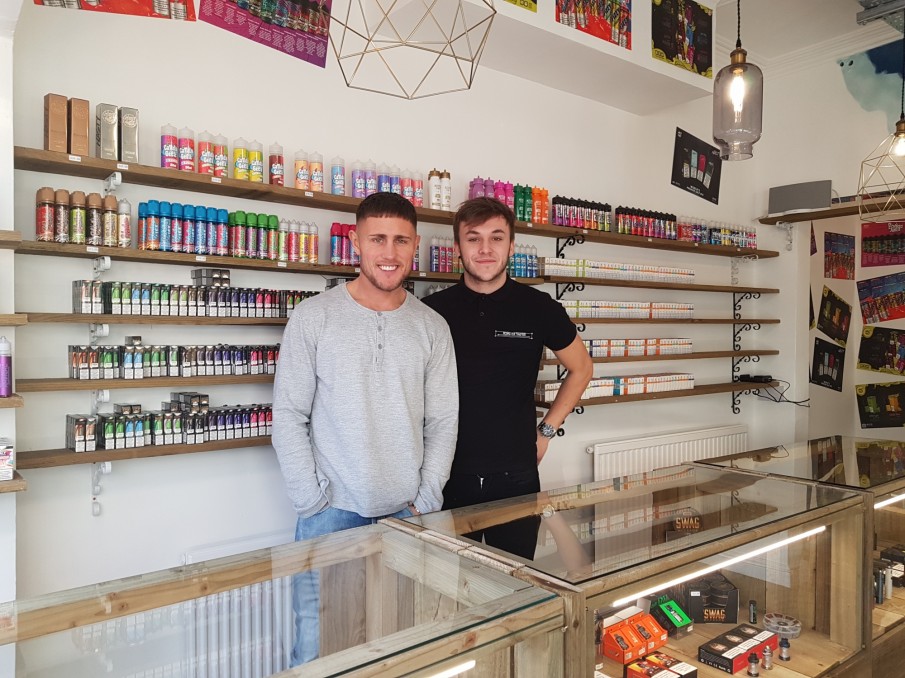 Zak (left) with George.
Zak says that the new shop has the biggest selection of vaping products in York. Vape shops have played a significant role in changing the face of the high street across the UK. In its favour, vaping has been regarded as 95% safer than smoking in recent reviews of evidence, and can lead to people stopping smoking altogether. Vape shops are encouraged to tell customers about local stop smoking services, and Zak tells us that his customers are sometimes referred by their doctors to the shop. Such shops score quite highly with public health services when measuring the healthiness of shops and businesses, compared for example with fast food outlets, bookmakers and tanning shops.
Along with the other premises on the street, this shop has a long history, although it stayed a private house until as late as 1957. That year trading started as a dry cleaners, Jas Smiths & Sons (Cleaners Ltd), part of a Dewsbury based firm founded in 1858. Jas Smith later joined forces with Johnsons Cleaners, a Liverpool firm, eventually taking that name.
In the 1980s Johnsons traded from 1a Bishopthorpe Road and no. 31 housed S. C. Harrison Solicitors, agent for the Halifax Building Society, later Ison Harrison solicitors. This building stayed a solicitors for around 20 years. By around 2006 the premises changed to the Woodlands Multiple Sclerosis Society charity shop, which unfortunately had to close around 2012, due to changes in MS Society policy regarding respite centres. In 2013 it reopened as Hopscotch.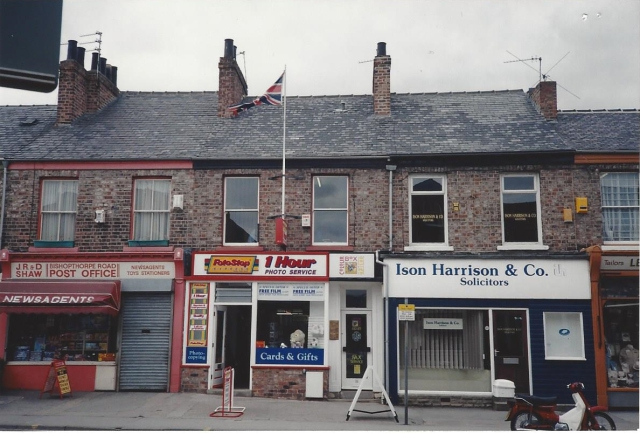 Photograph from 1988, when the premises housed Ison Harrison solicitors (Graham Kennedy)
There are many examples of tobacco products retailing throughout the history of Bishy Road, with the impressively named Ritter Hibblethwaite listed as far back as 1881, as an ale, porter and cigar merchant at no.33 (now Cameron Beaumont Opticians). In the 1920s, no 23 (now Frankie and Johnny's Cookshop) was a tobacconist, J.H. Worfolk. No.13 (now part of Pexton's) sold sweets and tobacco over a long period, as Martin's (see picture).

Martin's in the late 1960s (now part of Pextons)
Other shops promoted tobacco products, with branded signs in their front windows, such as the Post Office at no.35 (now The Pig and Pastry) advertising Gold Leaf, and over the road at no. 20 was newsagent Maynews, with Marlboro signs outside. Cigarettes are now of course on sale at our local supermarket shops.