16th July 2014
A shoemaking family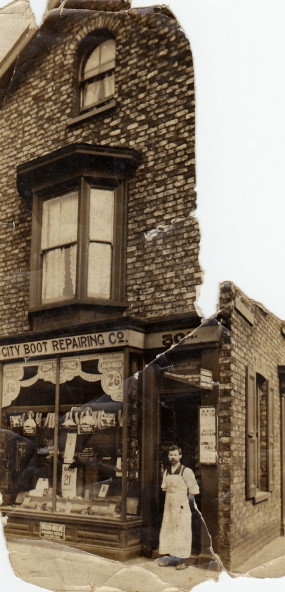 Terry Woodward's father Harold and grandfather Charles Hartley Woodward had the boot repairer's shop on the corner of Bishopthorpe Road and Vine Street, known as the City Boot Repairing Co. Ltd. They traded here from the 1920s and part of their business involved making boots for the army.
Charles was a shoemaker who had moved to York from Faringdon in Berkshire. Terry remembers the old sewing machine inside the shop for sewing leather and that apparently Charles used to sell advertising space on the side of the shop building for St George's Picture House in Castlegate, York.
They traded from this shop for a lengthy period. Charles died in 1952 but Harold kept on until 1959, when he had to give it up because of the adverse effects of leather dust.  But this did not stop him living to a ripe old age as he was over 100 when he died.
The shop was sold to a sewing machine repairer, who traded here until at least 1984 (see photo below by Rob Stay taken around that time). Thus the two shops lasted over sixty years, illustrating the importance of repairing consumer goods over this period, compared to modern day replacement patterns.
The shop now has a new lease of life as a cafe and take away restaurant, Stanley and Ramona.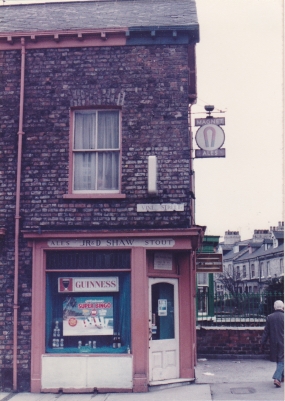 Images courtesy of Rob Stay and Terry Woodward