18th January 2023
All change on Bishy Road
The New Year has heralded a few changes to our shops on Bishy Road, adding to other traders over the last two years. Of course over 150 years or so there have been many variations, with an ebb and flow of traders, reflecting consumer habits and shaped by economic forces. Trading has proved to be resilient to recent threats such as the pandemic, but energy costs are still a great concern. Thankfully many of our shops benefit from display and seating areas outside their frontages, where the street was originally full of terraced houses with small front gardens.
One of our well-known shops, with a reputation throughout York and beyond, is Pextons hardware, and it now has new owners. 

Todd Lepage, one of the new owners of Pextons
It's a shop where you can go and ask for 'one of these' and get expert advice on how to solve household problems. The Pexton name appears from the 1930s, and after Bryan Shearer left in the late 1990s, Johnny and Frankie Hayes built it up for 14 years, expanding next door and winning several awards. They eventually sold the business in 2012, to York couple Dan Ebdon and Claire Gilham, who met as sixth-formers at All Saints School. 
Dan gained his hardware experience in Norway, where he also worked as a lumberjack. After ten years Dan and Claire have now sold the Pextons business to Todd and Bobby, two of their staff. We're delighted to hear this and welcome the continuity it offers in providing a wonderful service to their customers.
Todd told us "For Bobby and I, Pextons is more than a shop, it's a community resource with a fantastic history. Collectively we have over 12 years of working in the shop and have a great understanding of who our customers are and what they require.  Our customers know us for providing great customer service and advice as well as having a deceptively large and diverse product range - we love being challenged with unusual requests."
We wish Dan and Claire all the best for their future. We'll miss their quirky signs.
At the same time a great loss to the street will be Setting the Scene florist, for many years a picturesque sight on the corner of Vine St, as Richard Bothamley and Glenn Hamilton have just retired after ten years. Richard has been well-known for his beautiful commemorative event displays. This shop has a long history, selling provisions from 1876, with Charles Pinder there in the late 19th century, selling beer and pianos too! We hear this shop may house a shoe repairer soon.
Many people will remember the Shaw family off-licence here from the 1930s, who eventually moved across the road to run the Post Office. Doreen Shaw told us that it was mostly night-trade on this corner, as there were no groceries, mostly bottle sales with some draught mild sold to people with jugs, and later draught sherry. There is still a beer drop outside from its off-licence days.
Over the last two years there have been other comings and goings. Cyriaque Lajoinie and Beniamino Berluti opened their wine bar and shop, 2 Many Wines, in September 2021. These premises were well-known as a betting shop from the late 1950s (originally known as turf commission agents), most recently Totesport and Betfred. Cyriaque and Beniamino aim to reflect their French and Italian backgrounds, recommending wines to their customers, with a relaxed sommelier service. They also offer sharing platters of cheese or charcuterie, coffee and cakes, with a terrace along the front.
CN Nails York opened last May, offering manicures and fashionable nail styles. This shop housed Ison Harrison solicitors in the 1980s and 1990s, but by around 2006 it was the Woodlands Multiple Sclerosis Society charity shop, closing in 2012. A succession of shops have opened here since. Firstly a children's shoe shop, Hopscotch. By 2019 it was King of Vapes, selling vaping equipment, then the following year it became Q Barbers, which had a controversial history, as a result of ignoring coronavirus measures. It was eventually shut down by the Council.
Sadly next to Sainsbury's in Bishopthorpe Road we lost Noun last year, selling gifts for children and adults, homeware and clothing. It was a joint venture by Ellie McManaman, who used to run Bare here, and Gaynor Parr-Manley, who ran Olive's Nest in Scarcroft Road. People will remember this shop as where Glen and Julio had their hairdressing salon for over 40 years. It was originally a butcher's shop.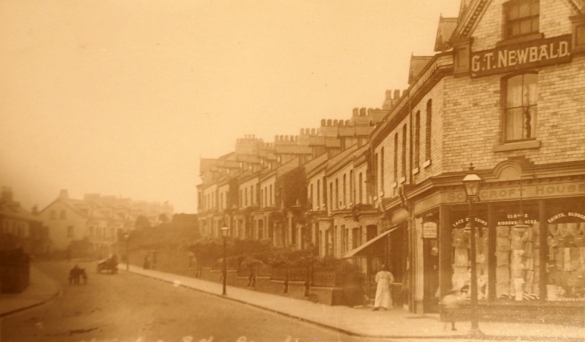 Round the corner, in Scarcroft Road, antique dealer The Verdigris House has just closed, after a brief spell here. This tiny shop again dates from the late 19th century, with many types of trader, ranging from a tailor, fruiterers, a delicatessen, an off-licence to an art gallery. More recently from 2018 it was Walter and May, selling gifts and home ware. Rumour has it that this may become a coffee shop...
Lastly, in the autumn of 2021 we welcomed Flori Bakery to what was previously one of two sign shops in Nunnery Lane. They had moved from Walmgate, having started in Spark. They are a small-batch, organic, Scandinavian-style neighbourhood bakery, specialising in pastries, and you can see regular early morning queues for their delicious croissants and coffee. The image below shows the eastern end of Nunnery Lane with the outfitters on the left which used to be on these premises.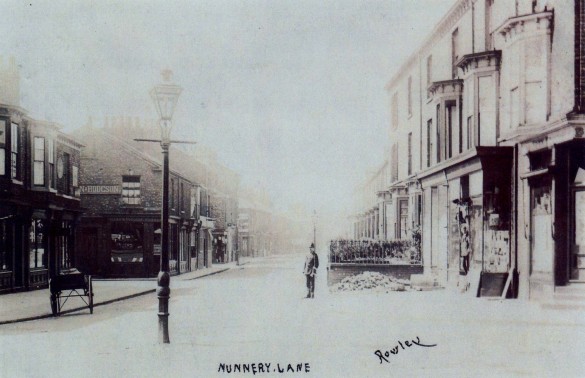 We've published several books about our old shops and pubs, which have a fascinating history, for details see here. Sadly our Bishy Road book proved too popular, and is now out of print.
STOP PRESS we have another new trader, near the end of Nunnery Lane (you can see this shop on the right on the old photograph above). Snip Barbers is open every day, appointments not needed, offering haircuts, beard trims, and hot towel shaves for men. This shop was previously Headz UK. One hundred years ago this was a provision dealer from North Cave, Hannah Mary Stather. From the 1930s to the 1950s it was Edward Watson's cycle dealers. By the 1960s it had become a ladies hairdresser, Mrs Kilvington and then 'Kaye'.