12th June 2016
Local WW1 women volunteers and sphagnum moss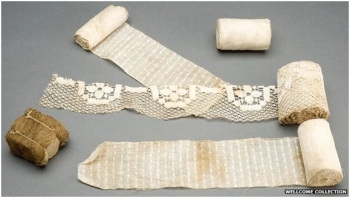 Anne Houson has been investigating natural dressings:
While there is plenty of information about what our local men did in the First World War, it is relatively difficult to discover what the women in our area were doing on the Home Front. Newly available records from the British Red Cross have helped us to shed some light on this. A handful of women in our area were working as volunteers for the Red Cross, making dressings out of sphagnum moss.
Right image, courtesy of the Wellcome Institute shows typical World War One dressings. The dressing in the bottom left hand corner is made from sphagnum moss.
Sphagnum moss may be familiar to some of us now, as a natural liner for hanging baskets. Its moisture retentive properties came into their own in the First World War, when it was used to make up dressings and dysentery pads. This was not a new discovery. Sphagnum moss had been used throughout history for dressings, but was widely used in the war as an alternative to cellulose (cotton wool) dressings, as cellulose was needed for use in the production of explosives.
By 1916 a sphagnum moss depot had been set up in Coney Street and by the beginning of 1917 there were up to 500 volunteer workers a month at the depot, where the moss was dried, sorted, cleaned and put into muslin bag dressings. It was gathered from peat bogs around the country, and the York depot appears to have had a group of volunteers  – Mrs Wood, Mrs Thomas and Miss Keighley – from the North Yorkshire Moors near Whitby, who collected moss.
A brief analysis of the backgrounds of the woman Red Cross volunteers at the York sphagnum moss centre shows that the majority of women volunteers were fairly or comfortably well off, and usually with few domestic commitments.
Mrs Charlotte Meysey-Thompson put in a staggering 7,200 hours between 1917 and 1919. Charlotte had grown up in some affluence, as her father was Sir James Walker of Sand Hutton Hall. She had married Colonel Richard Frederick Meysey-Thompson in 1879 and lived at Nunthorpe Court with eight servants (Nunthorpe Court is now part of Millthorpe School.) The Meysey-Thompsons bred and trained racehorses, and Charlotte was said to have been a good horsewoman. Charlotte's son Algar de Clifford Charles Meysey-Thompson served as a Captain in the Army Cycle Corps and died in York in 1967.
Mrs Kate Watkinson lived at 65 The Mount, her husband was a solicitor, Joshua Watkinson with a practice at 13 Lendal.
Susan Taite was also local to our area, She was in her 80's in the First World War, and living with her sister in a large house called Pinehurst, near what is now Trentholme Drive. Her husband had been a bank manager in Bridlington.
Ada Kirby was a married woman in her early 40's from 25 Millfield Road. She had two children, aged 11 and 12. Her husband was a law clerk and she remained at 25 Millfeld Road until her death in 1957.
The fifth local volunteer was Miss Ada Hepworth, who lived at 53 Scott Street, and may have been a nurse, but I can find no more information about her. If her name is familiar to you, or if you can give us any information about any of these unsung volunteers, please contact us via Clements Hall on 01904 466086 or email enquiries@clementshall.org.uk, we would be delighted to hear from you.
Sources
Ancestry.co.uk
Ayres, P (2013) Wound Dressing in World War 1 at http://rbg-web2.rbge.org.uk/bbs/activities/field%20bryology/FB110/FB110_Ayres_Sphagnum.pdf
Grieve, M (1931) A Modern Herbal at https://www.botanical.com/botanical/mgmh/m/mossph54.html
Imperial War Museum http://www.iwm.org.uk/collections/item/object/205247142
Red Cross British Red Cross Volunteers during the First World War, British Red Cross Website at http://www.redcross.org.uk/About-us/Who-we-are/History-and-origin/First-World-War/Volunteers-during-WW1
Wellcome Institute http://ichef.bbci.co.uk/news/624/media/images/76574000/jpg/_76574072_dressings_wellcome.jpg
Yorkshire Herald May 4 1917 A Commendable York Movement