21st September 2023
New businesses flowering in South Bank
It's good to see that some of our historic trading premises in South Bank have sprung into life again. Businesses inevitably reflect our modern preferences of course, so these are mainly cafes and restaurants opening up, serving the large number of people living in the area.
The history of the old shops in South Bank featured in our 2019 book, Shadows in the Bricks: the old shops of South Bank in York. Most of these shops dated from the early 20th century, with traditional grocery and other traders tightly squeezed into the red brick terraced streets, usually on corner sites, but sometimes in the front room of a house. If you look carefully, the streets of South Bank feature many fascinating brickwork variations, the 'shadows in the bricks'. You can also spot house corners chopped off where there was once a shop door.
We only have a few copies of this very popular book left, so if you want one, call in at Pextons or Frankie & Johnny's Cookshop.
We previously mentioned the new boutique Miloche, which has opened on the corner of South Bank Ave and Bishopthorpe Rd,
 but s

omething a bit different is a modern single storey building next door here, dating from the 1980s. Many businesses used this building, you may remember George King Fruit and Vegetables (see photo), but later Bygones Antiques, Kestrel Printers, and Eperon Doors. By 2003 it had became South Bank Kitchens, eventually taken over in 2012 by Knaresborough Kitchens. After ten years they closed here last year, but retained their Knaresborough base.
We're delighted that these premises have now re-opened as The Dark Horse Espresso Bar, a licenced cafe. It's an expansion for Sydney-born Mark Edwards and his York-born wife Laura, who have run the very popular Dark Horse Espresso Bar in a horsebox on the edge of the Shambles Market since 2018, with a particular reputation for their excellent coffee and tasty toasties. A programme of alterations to the building and frontage here has included new decking, planter boxes and windows. It's a great location for a corner café, as there is nothing similar between Bishopthorpe and Bishy Road. Laura said "
It's been such hard work, over a year in the planning, but we've had our eyes on this spot for a long time."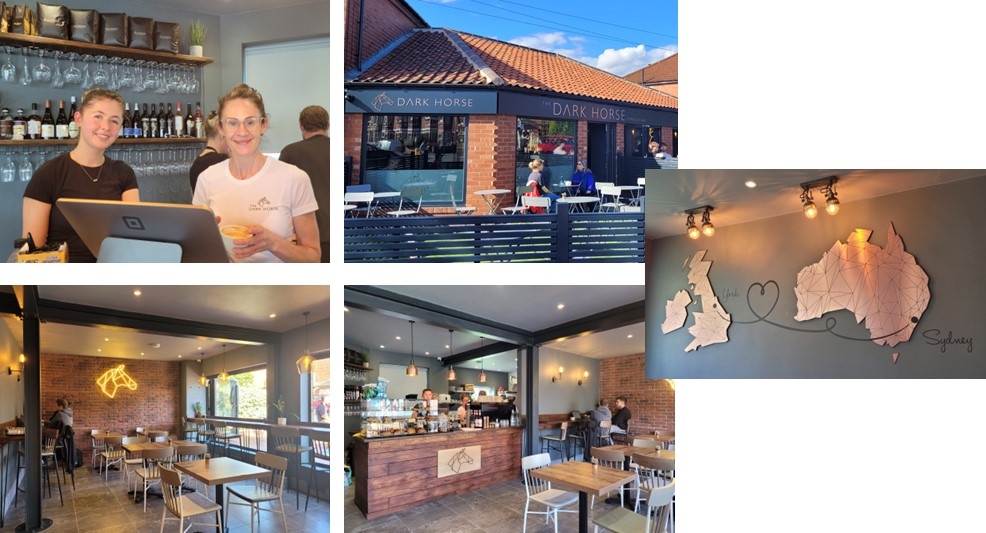 Another local shop has reopened at last on the corner of Balmoral Terrace and Count de Burgh Terrace.

This was an early grocers for 100 years, Joseph Easey from 1909, followed by William Robinson (1922-39) then Harold Kirby. By 1949 it was A E Thorns, who lasted until the mid-1980s, later Cox & Taylor off-licence, then Dave's, Hall's, J & M, and then Cox's Corner Shop. It was later known as South Bank Stores, but has been closed for quite a while. 

Now Sara Winlow has opened Lapin: Flowers and Coffee here, a coffee shop and florist, with a licence to sell wine and beers. 
Sara says "W
e are all about sustainability, so our locally grown flowers are grown without chemicals or pesticides! We use Roost Coffee small batch roasted in Malton. and have a range of Hebden teas, We make cakes in-house ourselves and sandwiches with C&S sourdough. The alcohol includes a sustainable wine collection, Cooper King which is distilled in York and carbon negative, and Brew York. I am also selling art from some local artists as a gifting collection, to complement the flowers. "
Further south, in the new Terry's development, we have two new businesses, benefiting from the large number of new residents moving into the Chocolate Works. A well-stocked Coop opened last year on the corner of Campleshon Rd and Clock Tower Way, with nearly 2,500 sq. ft of space. It's open between 7am and 10pm and there is also an Amazon locker for parcel collection and a facility for soft plastics recycling.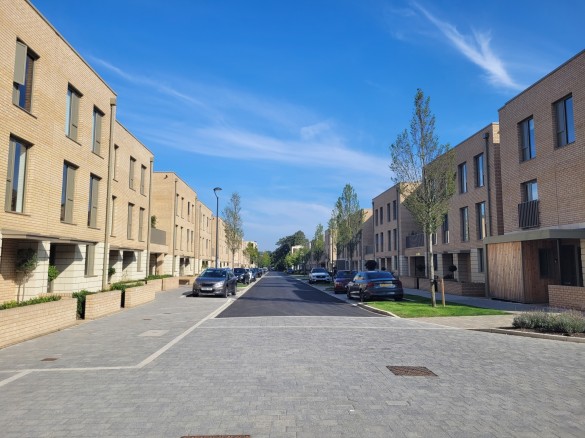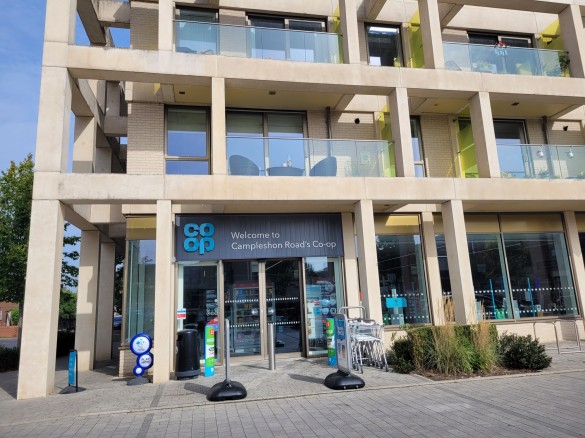 Clock Tower Way looking north towards Campleshon Rd, with the new Coop background right in this photo
Lastly we have an Italian café, deli and restaurant, The Old Liquor Store, which joins an architects and a dental practice in this old building next to the landmark Clock Tower at the Terry's development. It's Grade II listed, built 1924-30 for Terry's of York by architects J G Davies and L E Wade, in red brick English bond with sandstone ashlar dressings. The liquor store was used to store coffee beans from America, to be milled for chocolate, and rum for rum truffles.

The new cafe is the brainchild of Ben Williams, who previously ran The Rose and Crown pub in Sutton-on-the-Forest, and the head chef is Matt Leivers, who has worked for chef Andrew Pern, owner of Michelin-star The Star Inn the City in York. Some dishes on the menu reflect Terry's, such as a 'Terry's-misu', Terry's-influenced cocktails, and hot Terry's chocolate orange sauce for pancakes. The interior has an industrial feel, with exposed metal beams and 1920s tiles from the factory, in cream with a dark red stripe. There is a terrace area for customers to sit out with a drink. Former Terry's employees in local care homes have been contacted for their stories and memories to decorate the walls.
  A welcome from Ryan