11th September 2015
Pickled tongues and York Cream Sherry: looking back at our food shopping
This year at the Bishy Road Food Festival we're celebrating our wonderful shops, cafes and restaurants. But we've had many such shops serving local residents in the past. Looking back you can see how we've changed our eating habits and how our local streets have reflected food shopping trends over the last 150 years.
Shopkeepers traditionally traded from corner buildings and food and drink were the most basic of commodities for a growing community. Until the Skeldergate Bridge opened in 1881 as a toll bridge, local people wanting to cross the River Ouse to the centre of York had to use the ferry at Skeldergate Postern. It was a busy service, with over 800 people reported to be using the boat each day around this time. But our area needed to be self sufficient.
Our earliest general grocer in Bishopthorpe Road is recorded in 1861 at no 1 (now Swinton Insurance) when a milk seller and shopkeeper, George Plummer, appears in the census. By 1876 this was a provision dealer, Walter Burland. Around this time other grocers and provision dealers started to trade at this end of the road – Edward Dodsworth, George Batty, George Wiley, John Crosby, and then John Kilham on the corner at 1 Ebor Street. There was a provision dealer from 1867 onwards in the corner shop at no 1 Vine Street (now Setting the Scene Florist).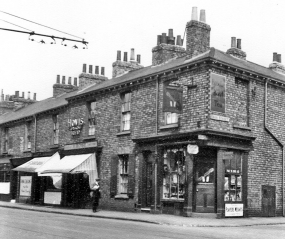 At no 14 (now Costcutter), was George Piercy, provision dealer in the 1870's, also running a beerhouse there, known as the Ebor Vaults at this time. Many other people traded from here as off-licence holders over the next 100 years. Times however changed with the growth of local convenience store groups and in 1985 the shop became a Spar Supermarket and finally Costcutter around fifteen years ago.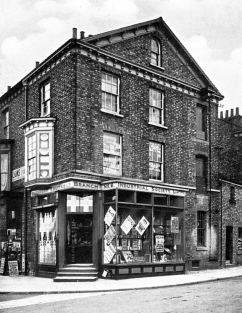 Left: The old off-licence in 1935, where Costcutter is now. It has had a beer licence since at least 1895. Next door is Harold Rose confectioner, then Brough's, a butcher's shop since 1891. The next shop was a Chinese laundry. Note the overhead tram fittings.
Right: Co-op on corner of Nunnery Lane/Bishopthorpe Road
On the west side of the road there were fewer shops. However an important landmark here was the York Equitable Industrial Society building, opposite the corner of Darnborough Street, long since demolished. The origins of the Co operative movement in York go back to 1859, when the Society was established, but the first of their shops in this area, branch No 6, was a grocery which opened in Clement Street in 1895. The following year the grocery moved to larger premises at no 92 on the corner of Nunnery Lane and Bishopgate Street, retaining a butchery at Clement Street. The building housed a butcher's in the 1930's and 1940's, finally closing around 1951, after which fruiterers traded here for a few years.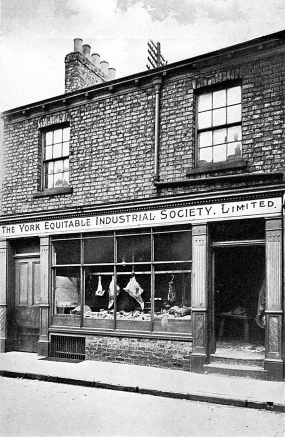 Apart from the Nunnery Lane end, buildings on the west side of Bishopthorpe Road were mostly terraced houses with small front gardens until around World War 1, something which has benefited the modern day shops on this side, giving them a deeper frontage. There was a grocer at No 19 (Age UK), from 1913 until 1939. Reflecting the new post-war development of multiple groceries, this shop became Meadow Dairy in 1949 until the mid-1970's. (Meadow Dairy was part of Unilever's Home and Colonial Stores group, which had originally started in the 1880's.) Gradually the buildings on this side turned into shops. No 23 (now Frankie and Johnny's Cookshop) used to be the Thrift Stores grocery, lasting many years from 1937 until 1974. Thrift Stores was a multiple which had started nationally in 1881, with a head office in Leeds.
Left: The Co-op butchers in Clement St behind Bishopthorpe Road.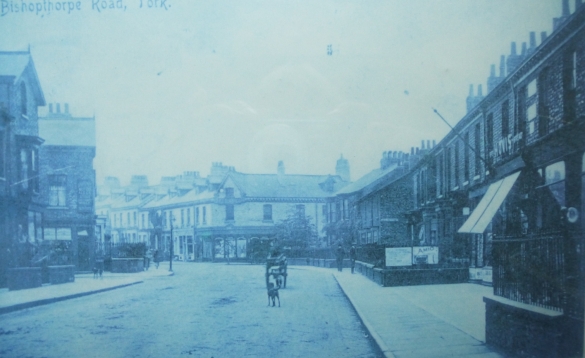 Bishopthorpe Road around the turn of the 20th century showing terraced houses on west side
On the other side No 20 (the Good Food Shop) was a grocers, George Todd from 1891 until around 1913, later Robert Marston. No 2 (now Cycle Heaven) was another provisions/grocery shop: G. E Hugill (1936-7), British Traders (1949-1963) and Melia's from 1965-7. Melia's Ltd was a popular grocers and tea dealers lasting from the 1920's to the 1960's alongside Maypole and Home and Colonial Stores. These grocery stores were forced by strong competition to amalgamate with the Home and Colonial Stores.
The shop on the corner of Scarcroft Road (now Sainsburys) was occupied in the 1880's and 1890's by W Hutchinson & Sons, a high class grocers and tea merchants. It later reflected the growing Co-operative movement when it became a branch of the York Equitable Industrial Society grocers in 1928, still there in 1985 as the North Yorkshire Co operative Society. By the late 1980's, it was Beejays, a mini-supermarket selling a full range of groceries and also alcohol. We believe the name derived from the initials of the founding partners. Unlike the Co-op it didn't close for lunch. Then with the rise of the supermarket chains, in 1995 it became Jacksons, until taken over by Sainsburys in 2004. Other local corner shops then started to suffer when these bigger supermarkets opened, selling a range of pre-packed produce and open for longer hours.
During the 1980's the development of frozen foods for the home led to the success of Eastwood's Frozen Foods, who traded in the street from a shop on both sides in the 1980's and 1990's. Later the delicatessen became popular, demonstrated by the success of the Good Food Shop, which moved to no. 20 from around the corner in Scarcroft Road in 2005.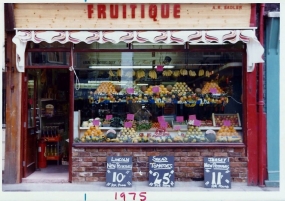 Fruit and vegetables have always been an important component of food shopping. No 6 (now Fruitique) has been a greengrocer for over 100 years. In 1911 it was owned by a York family called Jonas who also sold milk. In 1933 it changed hands and was run by a number of people as fruiterers until 1972. Roy Sadler bought the business in that year and it has been known as Fruitique since the late 1970's. After a trip to America, Roy was inspired to go 'self service', one of the first such shops in York. He retired ten years ago, when Kevin Pearson took over. Another fruiterer over the road was at No 21 (now Rice Style) from 1913, Frank Ward. The family firm, Ward's the Florist, is still in Clifford Street after 100 years of trading. Frank Ward decided to expand the business to its current premises in Clifford Street, leaving his sister to run the original shop in Bishopthorpe Road until she died in 1958.
There were other greengrocers locally. No 1a housed a fruiterer from 1911 till 1986, Harkers and then Robinsons for a long time, and then Severs. People may remember that no. 9 Scarcroft Road (now the Art Gallery) was a fruiterer from the 1930s. Latterly it belong to greengrocers Gordon and Jane David, who still trade at York market. At no 13 (now part of Pextons) was the Nursery Shop in the 1980's, later known as the Fruits of Life greengrocers. No 37 (Millie's) is relatively new in the street. Simon Baynes was a market stall trader whose family had a stall in the centre market since 1920, the fourth generation to do this. Millie's is named after his grandmother, who had three fruit and veg shops on Clarence Street, Walmgate and Micklegate.
You might be surprised by the number of butchers previously in the street, as there is now only one. For a long period from 1891 right up until 1972, there was a butcher's shop at no 1, with three long-lasting butchers trading here over a period of around eighty years: Christopher Metcalf (1891-1913), John Bielby (1922 36) John D. Holmes from 1937-1972. A further butchers on this side of the street was at no 5 (Bang Hairdressing) from 1913 until the mid 1970's, run by the Hopwood family from 1921. At no 15 was Eastman's Ltd, butchers from 1913. Eastman was a New Yorker who shipped cattle to the UK, using his main agent John Bell of Glasgow. He needed outlets able to handle frozen meat and had developed over 100 shops for this by 1885. Bell then joined Eastman to form Eastmans Ltd, with over 350 shops in the UK. The firm was eventually taken over by Vestey Bros (Union Cold Storage Co. Ltd) who traded under the Dewhurst name here in Bishy Road from 1953 until 1967. Dewhurst had over 1,000 shops at its peak, but went into receivership in 1995, after competition from supermarkets, some disastrous property investments, tax avoidance schemes and family rows at Vestey in the 1980's.
On the opposite side in 1861 William Webster was a butcher at the corner of Darnborough St. At no 2 (Cycle Heaven) there was a pork butchers, Angel & Co., from 1927-32. Henry Angel was one of a number of German pork butchers whose families would have suffered from anti German feeling during WW1. Angel had several other shops in York, at Fossgate, Bootham and Micklegate as well as a factory in James Street making meat pies. Sadly he seems to have expanded too quickly and went bankrupt in 1932.
Also at this side no 10 (now M & K. Butchers) has housed a butchers for nearly 140 years, since at least 1876, with George William Pickering there until 1925, when C H Pickering took over briefly. In 1928 the Brough family took charge till 1970. Phillip Kneafsey and Linda Morland bought the business in 1970, opening as M & K butchers, using their wedding money to buy it (they eventually got married at Easter that year). Since their retirement their sons Matthew and Simon have run the business, with a majority of the lamb supplied from Newstead Farm near Towthorpe, north of York, which is run by their parents.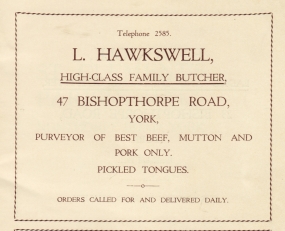 Further up the road, no 47 (formerly Glen and Julio) was in 1883 advertised in the York Herald to let to butchers, 'to a good man this is a rare opportunity'. By 1895 the butcher was Charles Henry Clough, who traded here until his death in 1927, after which his wife Elizabeth Mabel took over until her death in 1932. Somewhat shockingly in 1913 Mr Clough was advertising for a strong young man, 'able to kill', for his shop. By 1935 the butcher was Leonard Hawkswell, who ran the shop until 1974, when Mr C Abbey took over briefly. Hawkswell was a 'purveyor of best beef, mutton and pork only', and 'pickled tongues', 'orders called for and delivered daily'.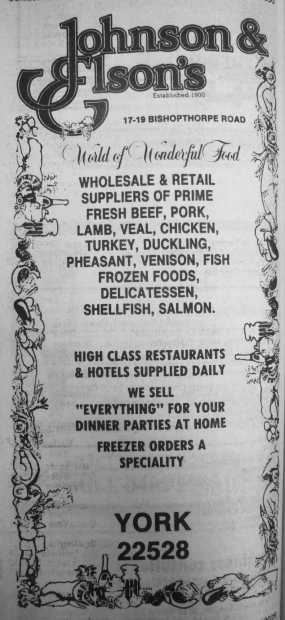 No 17 (part of Lal Quila) was a fishmonger, the Johnson family from Grimsby, in 1911 later becoming with no 19 Johnson & Elson. They had a reputation for high quality produce, with fresh meat, game and poultry, frozen foods, cooked meats, delicatessen and sandwiches, and even had a wholesale division. Highlighting a growing trend, in 1985 they advertised 'everything for your dinner parties at home'. Sadly they closed in the mid 1990's.
There were a large number of bakers and confectioners in Bishopthorpe Road, some trading as long as 100 years ago. No. 9 (now Domino's Pizza) was a confectioners, Alice Newton, for a long time between the wars. Similarly no.13 with the Martins and the Barnwells during the 1950's to the 1970's. There was another sweet shop at no 20 (now the Good Food Shop) in the 1950's and 1960's. No 25 (now Thomas the Baker) was a baker and confectioner in the Woolgrove family from 1911 until at least 1975. No 16 (now Evolve) was the Park Bakery (H.T. Atkinson) high-class baker and confectioner from 1935 until 1961, makers of 'malt, wheatmeal, Hovis and Turog' (the latter was a distinctive flour milled by Spillers). They also advertised 'Silver Cup VitBe Bread'. Park Bakery became Woodhead's bakers in 1990, lasting until 2011 when the firm went into administration. In 1959 No 21 (now Rice Style) was Whitakers & Sons bakers from 1959 until 1974.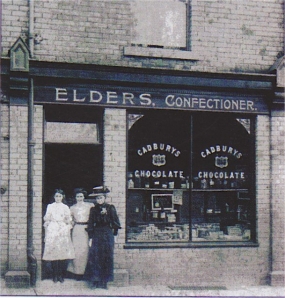 Over the road No 12 (now Costcutter) was a confectioners, Harold Rose (1921-1939), a baker and confectioner J C Lockwood (1949-55), then a baker R.Preston from 1957. It later became Sparham's Bakers until 1986. Round the corner at no 7 Scarcroft Road (now Meltons Restaurant) was a confectioners between 1895 and 1913, first Marion Ellis and then Emily Elders, and then a bakers later for over twenty five years.
Buying cooked food to eat out or at home has a long history. No 1 Ebor Street (The Fisherman's Wife) appears to have started as a fried fish shop around 1909, when E. Matthews was listed as selling fried fish and chips. Later in 1911 a John Smith who had boarded with the Matthews family took over. There were a number of proprietors from 1913 onwards. From 1980 it was J E Kilmartin, Ebor Fisheries, later owned by Nicholas Martin with his sister, Jackie Rogerson until 2012 and winning awards for their shop. They also opened a restaurant at the back.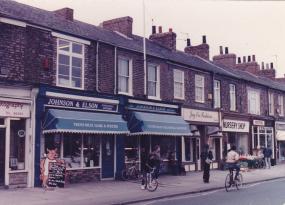 In the 1970's the nation started to get a taste for Chinese food and No 8 ( Rainbow House) became a Chinese takeway in 1973, the York Garden Restaurant. (This shop had previously been a Chinese laundry since 1935). By 1975 it was known as the Sang Lung Chop Suey Bar, a 'take away cooked meals' shop, changing around 1990 to the Rainbow House.
There have been a number of cafes and restaurants too, the earliest at No 16 (now Evolve Hairdressing) had a spell as the Dainty Cafe, run by Alfred Hawkshaw from 1923-1935. Dainty is a word which has now gone out of fashion but used to mean something good to eat, a delicacy. In the 1990's we had Rumours Restaurant at no 23 (now Frankie and Johnny's Cookshop), later becoming the Restaurant Casa Alberto in the 1990's, which intriguingly seems to have served French food. The current Puddin' and Pie was previously the Hot Pot Cafe and then OB's Diner until the latter closed in 2013. No 30a (Stanley and Ramona) was previously Deli's Snack Bar. As well as Lal Quila we had another Indian restaurant, York Spice, from around 2004 for about ten years, now the Thai restaurant Rice Style.
The sale of alcohol in the area was limited by religious campaigns around the turn of the 20th century, led by local temperance campaigner Canon Argles, but at the Swan a shop and beerhouse had been established in 1856 by Thomas Staveley, from Stockton-on-Tees. (There was also another beer retailer listed around here in 1867, John Davison.) Staveley sold the Swan in 1861 and a number of owner-landlords took it on. There has been some discussion about the origins of the name as in the late 1850's there was a colony of swans in the river. In the deeds of 1881 it was recorded as the 'White Swan' and then in the 1887 conveyance papers it was called the 'Swann Inn', possibly after the Swann family (as in nearby Swann Street). In 1891 Palliser Addyman was the grocer and beer retailer. In 1892 he transferred the licence to his son Albert Addyman and it was bought by Joshua Tetley & Son in 1899. In the 1930s it was refurbished by Tetleys and granted a full 'on' licence in 1961. It became a Tetley's Heritage pub in the mid 1980's.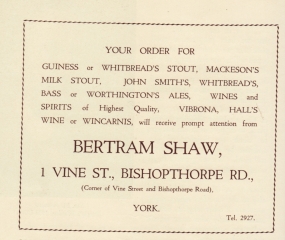 It was possible of course to buy alcohol to drink from a shop with a licence, such as the Ebor Vaults at no 14 (now Costcutter) mentioned earlier. It could also be bought from the shop at no 1 Vine Street (now Setting the Scene Florist) for example from Charles Pinder, who must have had several strings to his bow as by 1891 he was listed as a pianoforte dealer and beer seller. At this time he applied for a off-licence for wine and spirits for his shop. This must have been successful as in 1895 he was listed as a grocer, wine and spirit merchant. He was succeeded by Arthur Piercy and then Charles Potter from 1911 to 1932, followed by the Shaw family until at least 1975.There is still a beer drop outside from its off licence days.
At the same time as Pinder there was a wine merchant at the other end of the street, Thomas Hudson Harrison, first at no 1, then moving next door to no 3 (now Betfred and Churchills), trading from 1891 until the Second World War. In the 1930's the proprietor George Jackson was advertising 'York Cream, our brown sherry' and was 'noted for invalid wine and brandies'. Highlighting medical use had traditionally been a way to oppose temperance campaigners.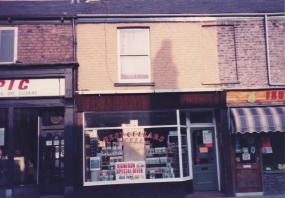 People might remember a popular shop at No 4 (now Cycle Heaven) was Best Cellars, wine retailers from the 1970's to the 1990's. And nos 27 and 29 (now La Trinacria) used to be Bargain Booze, trading at one point as Wacky Wines.
This article has featured the food shops mainly on Bishopthorpe Road, but there were of course many others nearby on Nunnery Lane, Clementhorpe and in South Bank. Do you have any memories or information about any of the shops and places noted here? Are you interested in helping us find out more? Clements Hall Local History Group is keen to develop this theme and would welcome your help.