06th February 2020
Pizzeria with Sicilian roots opens on Bishy Road
One of our favourite restaurants on Bishy Road re-opens this Friday as a pizzeria. In a new departure it's going to be open every evening too (apart from Mondays when it closes all day), with live music on Friday evenings as before.

Beppe and Phoebe with their family
Trinacria, run by husband and wife team Beppe Lombardo and Phoebe Morgan, opened as a Sicilian cafe and geletaria here in 2012, but it's been closed for a few weeks for their refurbishment. The new restaurant looks very glamorous and will be a great venue for families. As well as pizzas they will be serving dishes from their current menu too, and of course their delicious ice creams.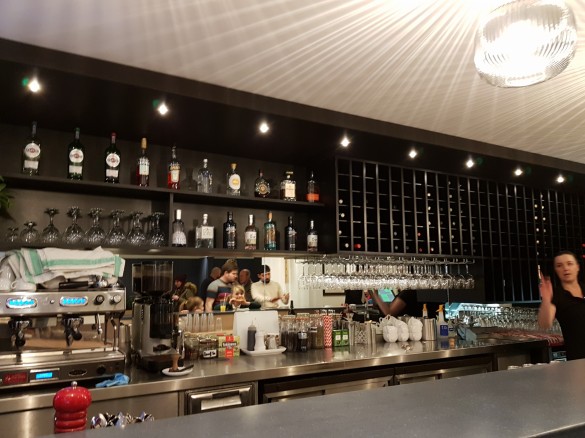 Like all of the Bishy Road shops, this building, across two old houses, has a long trading history. In 1911 no. 27 was a hairdresser, first William Nicholson and then in the 1930s Herbert Richardson took over the barber's shop with his wife Nora, from 1935 until his death in 1969. His daughter Molly told us that during the war when she was a small baby she used to be left outside in her pram and all the customers got to know her.
John Shaw said that in the late 1960s when boys started to have long hair, his father would take him here for the dreaded 'short back and sides'. The elderly hairdresser had oiled-back black hair and would sit him on a black leather brass-studded box on the barber's chair to bring him up to working height. The shop had a traditional barber's red and white striped pole outside, and was eventually sold by Nora around 1975, but the pole could still be seen long after, in photos from 1984.
Later this shop housed Business Travel International for around six years, and then Inner Space Videos. In modern times it has traded as Bargain Booze/Inner Space Station, an off-licence and video/ DVD hire business, which around 2000 expanded into next door at no 29. In 2012, when the internet and streaming developments destroyed the video hire business, the shop closed.
The premises at no. 29 housed a gentleman's outfitter, Tom Dixon, in the 1920s, later John Shillito Piercy for a long period from 1930 until 1965, when it became Leeming & Salisbury, outfitter. Many local people will still remember this tailor's, which lasted from the 1960s until the late 1990s. Although it was a very traditional shop, with high quality tailoring, it had a particular reputation for tailored Teddy Boy drapes. The Teddy Boy style first appeared in the 1950s in Britain, but there was a particular revival in the 1980s.


No.29 briefly became Occasions Gifts and Cards and then Inner Space/Bargain Booze for around 12 years.
To find out more about the history of the shops read our book, 'Bishy Road: a York shopping street in time'. You can buy a copy, price £5, from Pextons and from Frankie & Johnny's Cookshop, as well as from Clements Hall..