16th October 2014
The corner of Scarcroft Road: From butchers and drapers to hairdressers and grocers
Hairdressers Glen and Julio tell us that the terrace to the south of their hair salon, known as Avondale Crescent, was built in the early 1880's by a brother of the Hawkswell family who subsequently owned all the properties. The salon, now 47 Bishopthorpe Road, but then no 1 Avondale Crescent, was originally built as a butcher's shop and a private five-bedroom house.
In 1883 the house and shop were advertised in the York Herald to let to butchers: 'to a good man this is a rare opportunity'. By 1895 the butcher was Charles Henry Clough.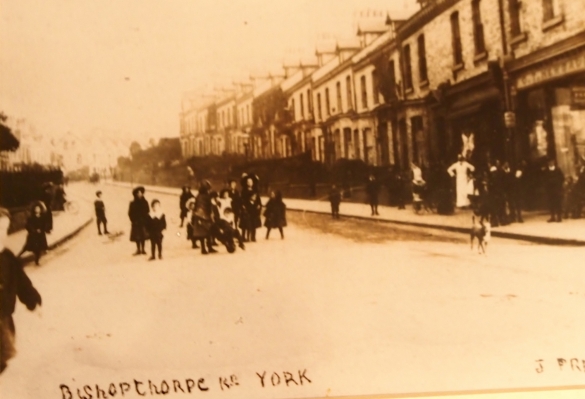 Mr Clough traded here until his death in 1927, after which his wife Elizabeth Mabel took over until her death in 1932. Leonard Hawkswell then took over the shop for forty years until 1974, when Mr Abbey had it briefly. This advert dates from 1933: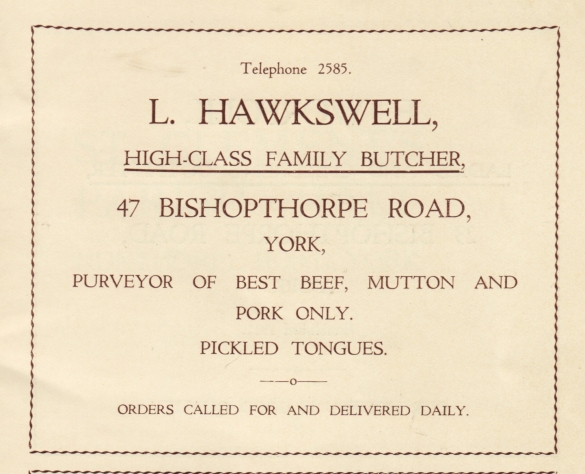 Glen Jackson and Julio Garcia have been here for over 40 years, having converted the old butcher's shop into their hair salon. They kept its significant Victorian features and some of the original fixtures from the butcher's shop. The room now used for shampooing clients was the room where meat was hung, and the floor slopes down to where the drains would have been, now occupied by sinks. The bar from which meat hung is still in place, as are the original meat hooks. The wall tiles are the original Minton tiles placed by the Hawkswells. There is a large cellar underneath the salon and many of the original fittings were in place when Glen and Julio took over the property. Some of these, such as dripping tins, were sent to the Museum of Farming. The cellar was used for the preparation of small animals – fowl and rabbits.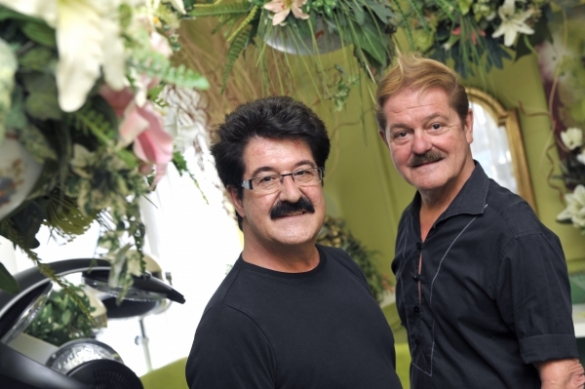 Glen and Julio's windows have displayed many awards, as hairdressing champions: British, Scottish and Welsh, and representing Great Britain in the World Hairdressing Championships for seven years. They even took part in a Hollywood film, Blow Dry, featuring Alan Rickman, Natasha Richardson and Warren Clarke, released in 2001. The movie, written by the man behind The Full Monty, was a tale of rivalry between hairdressers, set in Keighley, West Yorkshire. Glen and Julio were initially brought in as consultants, but so impressed the crew on the film that they were included in the filming.
We previously wrote about the grocers' shop where Sainsbury's is now (follow this link) but for a brief period in the 1920s there was a draper there, George Thomas Newbald. At that time, Bishopthorpe Road was a dirt road. Glen and Julio have provided this wonderful picture of the draper's shop, then known as Scarcroft House, with the butcher posing outside his shop and a fascinating display of items in the drapery.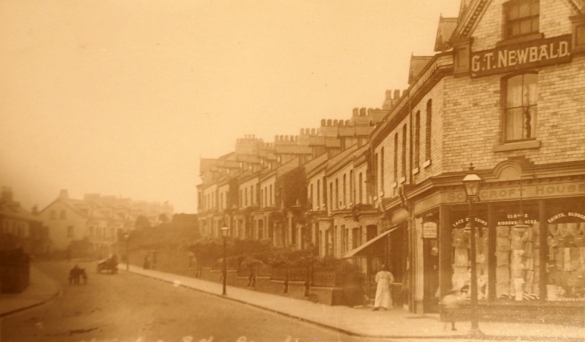 Many thanks to Linda Terry for exploring this information with Glen and Julio.