31st March 2021
The Mosses of Moss Street
In our latest blog post, our member Peter Thompson recounts the intriguing story of what happened when he started investigating the street where he lives in York, South Parade, off Blossom St. He was sidetracked into exploring the history of a local family and how the next street along, Moss Street, was eventually developed.
In the early 19th century Francis Moss Sr was a respected coach master with a livery stables in Minster Yard in York. He was also a most successful breeder of racehorses, including Blacklock and Velocipede, the latter sired Voltaire, the grand-sire of Voltigeur, who won both the Derby and St Leger in 1850. That same year he beat The Flying Dutchman in the Doncaster Cup, the only one of his fifteen races that The Flying Dutchman lost. The following year in what became known as 'The Great Match' at York, for a purse of 2000 guineas, The Flying Dutchman defeated Voltigeur. The crowd was estimated at between 100,000 and 150,000, the all-time record for York.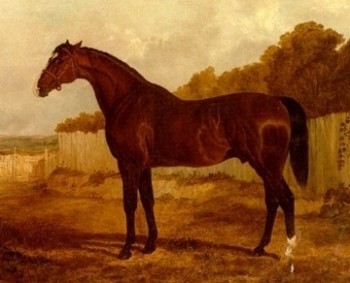 Blacklock (left) and Velocipede: two of Francis Moss's best racers
Blacklock in Landscape by John Frederick Herring. Velocipede, by John Ferneley - encore-editions.com, Public Domain, https://commons.wikimedia.org/w/index.php?curid=22838580

The Great Match 1851 by John Herring Sr
Public Domain, https://commons.wikimedia.org/w/index.php?curid=953725
In 1824 Francis Moss becomes a key member of the York Commercial Building Company, a group of local businessmen who have bought the land on which South Parade is built between 1824 and 1828.
At the time of his death in 1837 Francis Moss is the owner of some five houses in South Parade.
Around this time, in 1840, there is the beginning of residential development along Blossom Street. Mount Parade was developed from 1823 onwards, and complete by 1840. Most of the north side of Park Street is completed by 1850. East Mount Road is built in the late 1850s and though Shaw's Terrace existed in some form in 1861, a terrace of '18 newly built houses' in Shaw's Terrace is reported in 1867. By 1870 there is extensive residential development from South Parade to Park Street, but still no Moss Street.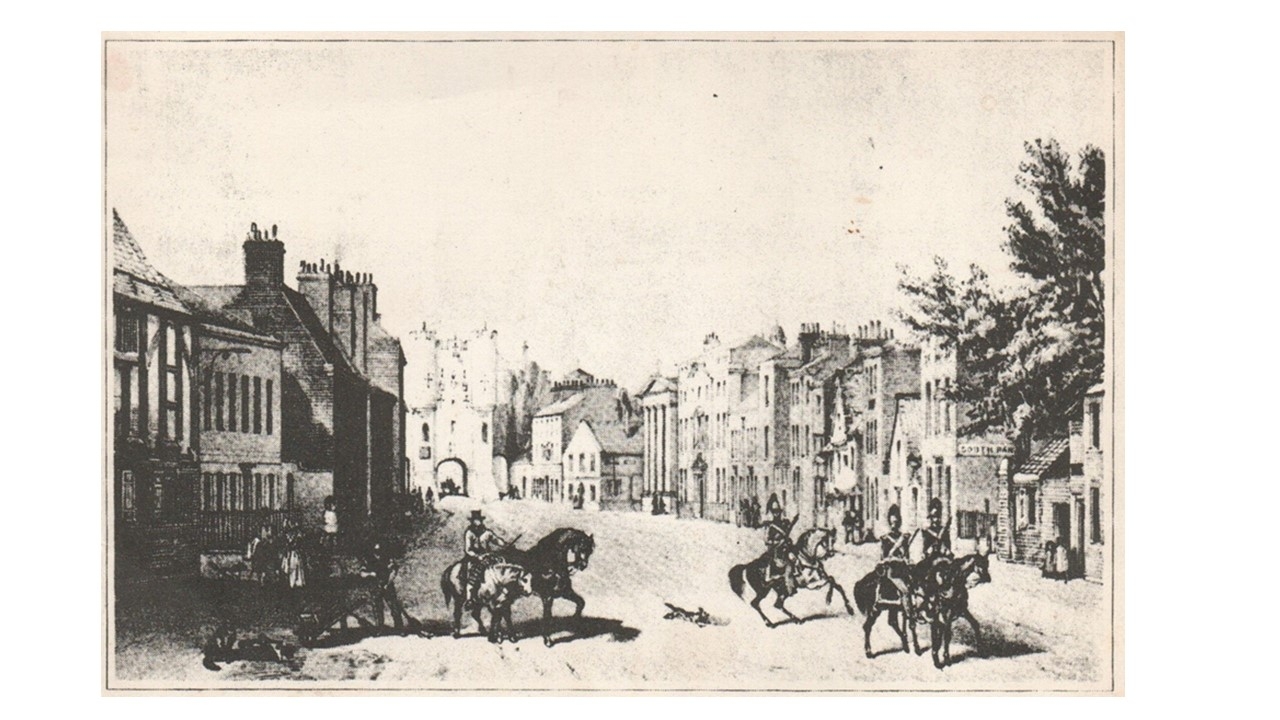 Perhaps the earliest picture of South Parade (just). The street sign 'South Par' can be seen on the right. The Bar Convent and its extension built to the design of G.T. Andrews in 1844-45 are clearly visible, putting an earliest possible date on this image.
Blossom Street in 1850. The completed Mount Parade is at bottom left and the early houses in Park Street have been built. The houses on Blossom Street and the gardens in front of South Parade, for which Sarah Moss was negotiating can clearly be seen. (Map first published in the Historic Towns Atlas Volume V, © The Historic Towns Trust, 2015)
The children of the Moss family were Francis Jr and Sarah, who inherit their father's property in South Parade. Young Sarah has also borrowed money to buy eight houses fronting Blossom Street, with gardens extending down South Parade to Scarcroft, the land on which Moss Street stands today.
Tragically Francis Jr commits suicide in 1875, apparently in part due to depression created by the result of a local Council election in Micklegate. The following year Sarah writes her will, naming her co-heirs as Francis Moss Todd and James Moss Wiggins. Furthermore she stipulates that the gardens fronting South Parade, which she owns, shall not be built on. Sarah dies in 1879, but in 1884 the Chancery Court, sadly for the present residents of South Parade, overturns Sarah Moss's stipulation on no building on her gardens. Within a couple of years, in 1887, building of a new road to be called Moss Street has begun.
Follow this link for the full story of the Mosses and the sad end of Francis Moss Jnr.