19th October 2019
The two cousins and the First World War
Susan Major has continued to research a fascinating story:
We wrote about the Oberhoffer family three years ago, when we were looking at aliens and their families in our area in the First World War. In a feature entitled Mother, shall we have to kill Fräulein?, we focused on German‑born residents in our local area in the 1911 census. Dr Coralie Wink has recently been in touch with us from Dossenheim, near Heidelberg in Germany, to update us on the intriguing and tragic story of one of these families.
Robert Werner Oberhoffer (56) was a notable German composer, organist and music teacher, living at 9 The Crescent, off Blossom St in 1911.* Robert was born in Trier in Germany, and his father was Heinrich Oberhoffer, a famous composer.
Robert moved to York in 1875 and was appointed organist at St Wilfrid's Church in York and music master at Ampleforth College. He was the first conductor of the York Musical Society in 1876/7 and also York Amateur Orchestral Society 1883/5. In 1881 he was still single and lodging with a cabinet maker in Stonegate, but in 1884 he married Maria Elizabeth Stahlhuth in Germany, the daughter of a German organ builder.
Robert Oberhoffer
The Crescent in 1905
In 1911 Robert was living in the Crescent with his wife Marie Elizabeth (47) and their York-born daughters Elizabeth Rosalie (23) and Maria Josephine (17). Also with them on that day was his German nephew, Gerhard Oberhoffer (23), who was staying with his cousins to learn English. Robert and Marie's own son, George Henry Joseph Oberhoffer, born in York in 1885, was away at the time.
The lives of the two cousins however were to take completely different directions, as a result of the war. They were a musical family, George Oberhoffer had been a student at Ampleforth College from 1893 to 1901, then studied at the Cologne Conservatoire of Music, becoming Professor of Music at the Dusseldorf Conservatoire from 1906 to 1908. In 1909 he accepted the post of organist and choirmaster at St Mel's Cathedral, Longford, Ireland, and then music master at the Leinster School of Music, Dublin. In 1912 he became music master at Uppingham School.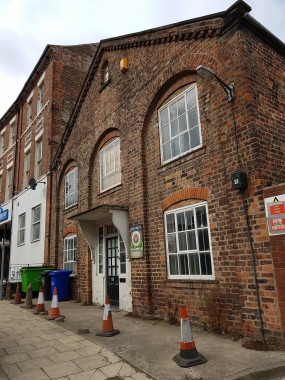 George Oberhoffer
9 The Crescent today
With the outbreak of war, in January 1915 George joined the 18th Battalion Royal Fusiliers (1st Public Schools). It is intriguing that a man with such a distinctive German name, albeit York-born, was serving in the British Army. He enlisted at Epsom and went to the Front in November 1915. On 18 February 1916 he was shot through the head, dying within twenty-four hours. One of his fellow-soldiers wrote: "He was the most popular man in the section. His character was a beautiful one, and he lived near to God." He is buried in Bethune Town Cemetery, grave VA18, and is remembered on Uppingham's war memorial. He is also on York's Roll of Honour.
His father Robert sadly died a few months later, in July 1916, aged 61. The funeral was at York Cemetery in July 1916, with a requiem mass at St Wilfrid's Church.  It appears that his wife Marie died in 1952 in Essex.
George's cousin Gerhard returned to Germany before the war started, and fought on the German side, in a different area to that in which his cousin Georgie was stationed, but still an ironic outcome of their young lives. Coralie, who is his granddaughter, highlights a pre-war Europe where freedom of movement was quite normal. She said "My grandfather always regretted that he lost all his English and French and Luxemburg friends from University through that war, because everything was severed. Before the war you hardly needed a passport, and he had even studied at the Sorbonne for a year. He became a teacher in Bonn, teaching French, English and Geography, that is why he went to Yorkshire to improve his English, and later to the Sorbonne. He lived to the great age of 95 years, dying in 1982."
Thus as a result of the war the two cousins went off to fight on different sides, against each other, with George suffering a tragic fate at a young age.
* No. 9 is still there, until recently a warehouse for York Brewery. But it's about to enter a new era as The Malthouse, a new Social Vision venue, supported by Ainsty Ales, award-winning local employer. Of course the numbers may have changed and the Oberhoffers may have been living in one of the houses along the Crescent. But in 1913 no 9 was the address for a wheelwright and for the John J Hunt Ltd Maltings. Another famous resident at the time was Edwin Ridsdale Tate, architect, at no 4.
Sources
Dr John Ridgeway-Wood, Director of Music, York Oratory in Formation, St Wilfrid's Catholic Church, York
Maximillian Elliot "Robert Werner Oberhoffer; his life and music, 1854-1916".
Dr Coralie Wink
Census records and York Directories.