10th January 2016
The Winning Post – a decorative puzzle
You might not be aware that the profile of public houses in our area has been shaped by a figure from a hundred years ago. Canon Argles of St Clements arrived in the parish in 1871 and became an outspoken critic of drink and public houses, seeing drink as a social evil. Despite the large number of houses being built in the Bishopthorpe Road area of York he was able to use his influence to prevent pubs opening in South Bank until his death in 1920. It was not until 1932 that the Knavesmire pub opened.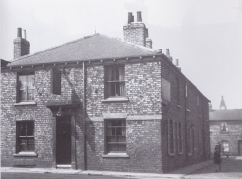 A few years later the Winning Post opened on 22 May 1939, built by John Smith & Sons, after the licence from the Red Lion in Micklegate was transferred to it. At the same time the licence from the former pub The Sportsman in Caroline St was forfeited (this long demolished street ran down from the building now housing Millie's greengrocers in Bishopthorpe Road).
Right: The Sportsman in Caroline Street
The Winning Post was a popular pub with a large function room, becoming famous for many bands appearing there, including Shed Seven in their early days. By 2014 however there were concerns about the possibility of a large supermarket taking over the premises, and so after an application by local traders it was listed in 2014 as an asset of community value, to protect it from development.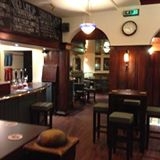 Thankfully, in December 2015, new managers Malcolm and Fiona took over, with an ambitious programme of renovation. They were fascinated to find under the floor some interesting racing related decorative features – a horse and jockey and a horseshoe motif. Does anyone know any more about these? Do you have any memories of the old days in the Winning Post to share?