13th December 2018
The Bishy Weigh
Welcome to our latest trader in Bishy Road, at no 1, on the corner of Nunnery Lane. It's an exciting new business which heralds a first for the area.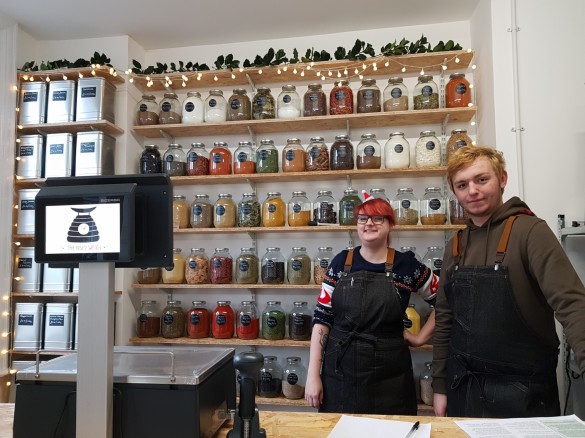 Manager Kerry with Liam at the shop
The Bishy Weigh offers a weigh-and-pay shop for local people to reduce their use of plastic. Owner Alice Hildred, who lives in South Bank, is keen to encourage customers to bring their own containers for a range of cupboard and household essentials.The shop aims to work alongside the other Bishy Road traders, to offer customers a reduced-waste alternative to the supermarkets.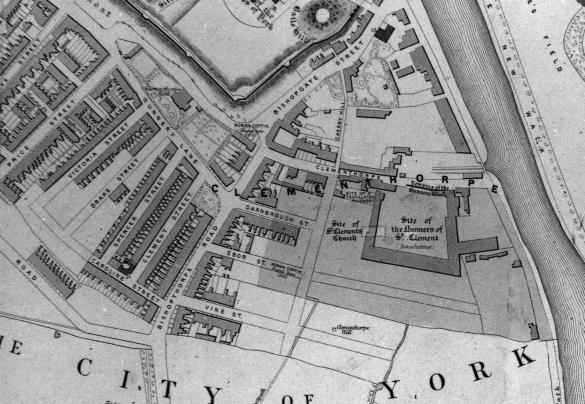 Scaife map of 1864 (YAYAS Evelyn Collection)
As usual in Bishy Road, the building has a long history of trading. The 1864 map shows a green space at this spot, and it is not clear when the current building was constructed, certainly before 1890. This corner was quite significant at the time with news reports of open air political meetings by Liberal candidates there in the 1890s.
In the early days no.1 housed a wine and spirit merchant, and then by 1889 the first of a long line of butchers, first Charles Metcalfe, and then Christopher Metcalf from 1891-1913, John Bielby from 1922‑1936, and John D. Holmes from 1937-1972. When the last butcher left, the shop housed an antique dealer. The shop has traded as Swinton Insurance Brokers from the 1980s until 2017.