06th July 2018
Bloomin' lovely success in Bishy Road
Bloom York 2018 is a beautiful celebration of flowers in York this year, and quite a few of our Bishy Road traders have worked very hard to take part in the window dressing competition. It's exciting to hear that three of our shops have been shortlisted by Simon Lycett for the top twenty of the competition – Olive's Nest, Setting the Scene and Bare.



In recent years street decorations have featured bikes for the cycle racing events and rainbows for the Gay Pride procession. But you might not know that this kind of decorative activity goes back as far as 125 years on the street, which has a long tradition in active participation in celebrations. There was even a Shakespearian element to the decorations in 1893, wonderful when you consider our Rose Theatre Shakespeare summer of 2018 at Clifford's Tower.
In October 1893 the city was celebrating a visit from the newly married Duke and Duchess of York (he later became George V). The couple were in York to open the new free public library in Clifford Street, now reduced to scaring visitors as York Dungeon, rather than enlightening local people. After lunch at the Guildhall the royal procession was to travel over Skeldergate Bridge, along Bishopthorpe Road and Scarcroft Road before returning to the Minster. The city even agreed to suspend the bridge tolls over Lendal Bridge and Skeldergate Bridge for two hours that afternoon, to mark the event.
Unfortunately there are no photographs showing our local shops at this time but the York Herald reported that 'several tradesmen have vied with each other in adorning their premises for the occasion', although sadly 'the decorations were not numerous'. To be fair there were very few shops at this time, mostly on the east side of the road.
Mr George Pickering was the butcher at no 10 from 1885 until 1925 (where M & K Butchers are now). He apparently had 'a very neat arrangement in which jewel lamps and festoons of greenery are prominent'.
Mr Wells was the painter and paperhanger at no 12 (now Costcutter) from 1891, succeeded by his wife as 'mistress painter', before the firm moved to no 4 (now The Angel on the Green) in 1911. His decorations in 1893 included 'a very pretty sign with a framework of greenery and jewel lamps'. His business was to be long-lasting, as it didn't close until 1965.
Further decorations were noted at two beer retailers, Mr Charles Pinder at No 1 Vine St (now the florist Setting the Scene) and Mr T G Duckitt at no 14 (now Costcutter).
By way of contrast the shops on the corner of Scarcroft Road went to town with a royalist display. Messrs Hutchinson's the grocers (now Sainsbury's Local) and Dr Raimes from the surgery across the road (where the car park is now) stretched a length of crimson drapery across the road. This was emblazoned with an appropriate quotation from Shakespeare's Richard III: 'Now is the winter of our discontent made glorious summer by this sun of York'. They even had 'a number of pretty bannerets and streamers' hanging from the crimson drapery.
In 2018 there are more fascinating floral displays by our local traders, including flowery cornets at Trinacria and a Kate Buckley exhibition at Frankie and Johnny's.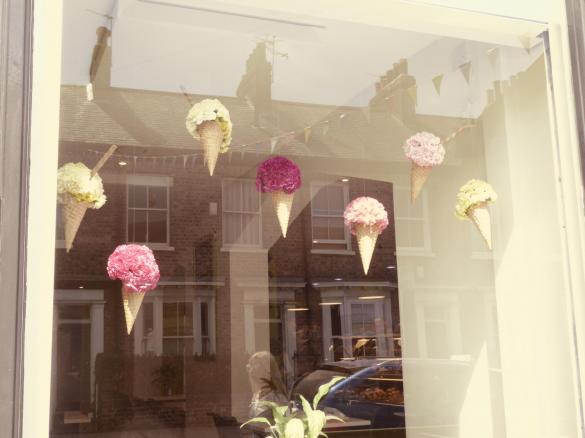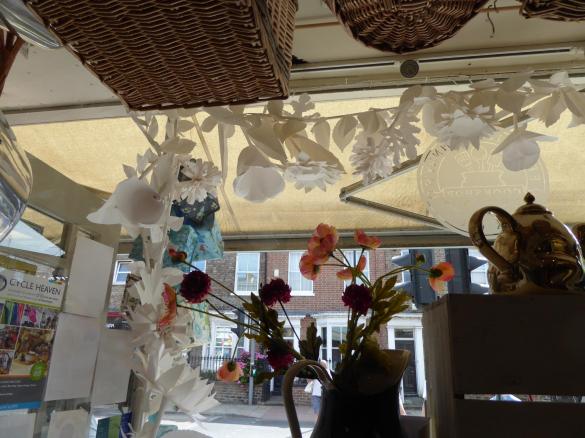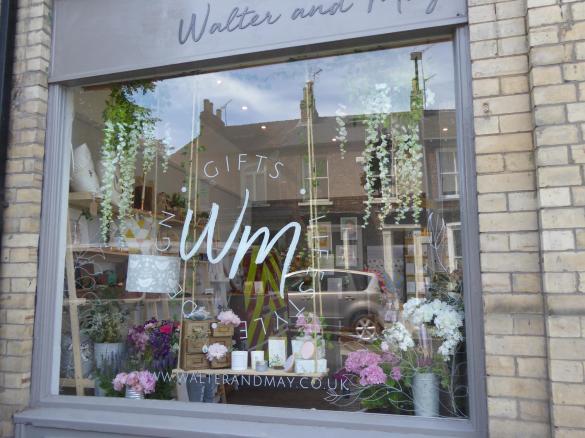 The Trafalgar Bay on Nunnery Lane is joining in too, with their wellies!