York Poor Law Union Apprentice Indentures 1879-83     
Summary
This paper demonstrates how one poor law union apprenticed young men from its workhouse in the period 1879-83. It draws attention to safeguards aimed at reducing the likelihood of exploitation, and cites examples of disputes that emerged between master and apprentice, and how these were handled by York Board of Guardians. Indentures are analysed by occupation and location, and provide data for further research.
Background
1844 legislation abolished compulsory apprenticeships and gave the central poor law authority  - the  Poor Law Commission (1834 - 47), the Poor Law Board (1847-71) and the Local Government Board (1871-1919) - power to prescribe terms of  indenture, the agreement between master and apprentice. No child under nine or who could not read and write his own name was to be bound; and no one over fourteen bound without their consent. Further legislation in 1851 provided for the prosecution of cases of neglect or ill treatment. In addition, apprentices were to be visited twice a year.
When inmates reached the age of thirteen or fourteen, applications were sought from masters in different trades. e.g. Guardians agreed on 3 June 1880 to advertise in local newspapers the availability of five or six boys for apprenticeship to blacksmiths, tailors or shoemakers. These trades reflected industrial training received in the workhouse. A Poor Law Union Relieving Officer (RO) would visit the master to assess his suitability, and report back. If approved by the Guardians, a match was made on the basis of a one month trial. Subsequently - on 3 February 1881 - Guardians agreed to apprentice ten or twelve boys; and on 26 May 1881 for a master to take on 'a bright, intelligent youth' of around fourteen who wanted to be a page in a gentleman's family.

Certificate of Indenture. 
Where masters applied from beyond the York Poor Law Union (PLU) area, York's clerk wrote to his counterpart in the relevant Poor Law Union requesting an assessment visit. (This inter-union cooperation was aimed at weeding out unsuitable employers, as also noted by Kathryn Thompson in her study of Leicester PLU). The result was reported back to York. e.g. a month's trial was agreed on 13 February 1879 for the apprenticeship of George Dickenson to Christopher Ellis, shoemaker of Crayke, subject to no objections from Easingwold PLU, confirmed on 27 February.
Likewise York assisted other Poor Law Unions. e.g. in March 1880 Leeds asked if York objected to the binding of two boys to William Revell, a tailor and haircutter, of 44 Layerthorpe. Mr Wilkinson, York City Relieving Officer, made enquiries. There were no concerns, and this was subsequently reported to Leeds.
Boys were often indentured to masters some distance from York e.g. Darlington, and Stockton on Tees, in County Durham and Normanton in the West Riding. On 7 April 1881 the Board decided to write to the Local Government Board (LGB) for consent to bind boy apprentices to masters over 30 miles from the city of York. Masters were often in rural areas where small, local workhouses prioritised training in agricultural skills, rather than crafts such as shoemaking and tailoring, more characteristic of larger, urban workhouses. Masters were aware of this and applied to those Poor Law Unions that best matched their requirements. As Thompson points out, the outwork system was under pressure; for example, shoemakers faced competition from factory-made American shoes, use of American machinery for sewing shoes, and then for machine welting. Provision of low-cost apprentices from the workhouse served to shore up the outwork system.

A shoemaker is selling shoes to a woman at the window of his workshop, as his assistants sew and hammer the shoes. Woodcut. 

Wellcome Collection

. 

Public Domain Ma

rk
Terms of indentures
York PLU encouraged apprenticeships for boys, and domestic servant placements for girls. A report, Apprenticeships 1845-1929, by Elaine Bradshaw lists children indentured to trades by the Board of Guardians. Apprentices are male, eleven to sixteen, and generally apprenticed for six or seven years. The most common payment is £10 fees plus two suits of clothes.
PLU Relieving Officers (RO) were responsible for visiting apprentices under sixteen at least twice a year, to assess that adequate food was provided, and that they were not subjected to cruel or illegal treatment. Given the other responsibilities of ROs (e.g. assessing out-relief applications and monitoring welfare of boarded-out workhouse children) it is unclear the extent to which this practice was implemented. Duties were sometimes sub-contracted to PLUs closer to the binding e.g. in November 1883 York PLU asked Leeds PLU to investigate a case of alleged ill-treatment towards an apprentice. A Leeds RO investigated, and sent his report to York PLU  (details below).
Some disputes between master and apprentice might have been resolved if identified and addressed earlier. The Local Government Board (LGB) responded to a report by the RO on children sent out as servants, recommending Guardians adopt a register for both servants and apprentices. An LGB circular of 31 July 1880 noted reports were 'in many cases unavailable as a permanent record and ... practically useless for reference at a subsequent time'. It strongly recommended the use of a register to assist tracing an apprentice's subsequent career (and enclosed a model register, with a page for each child, so reports by the RO on each child might be seen and referred to consecutively).
Apprentice and Domestic Servant List of Bindings from York Workhouse, 1879-83 follow this link for list
Note 50 boys were indentured in the period 1879-83; and 23 girls entered domestic service.
Apprenticeship by trade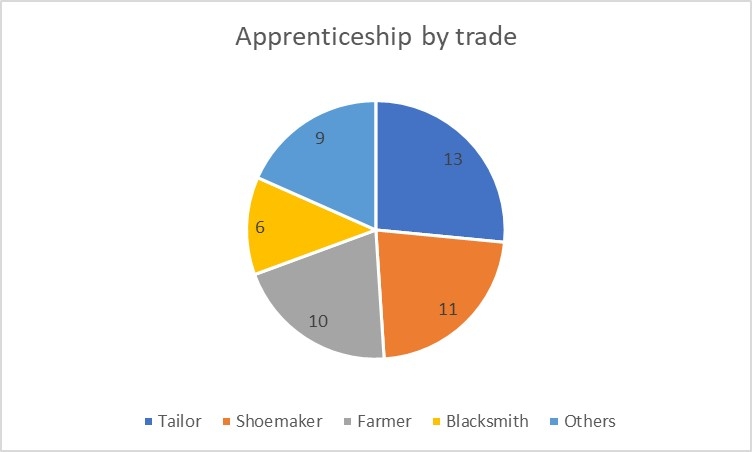 Others comprise two millers/bakers, two joiners, one confectioner, one grocer, one hairdresser, one engineer and one helper in house and garden.
Apprentice Placements: Distance from York in miles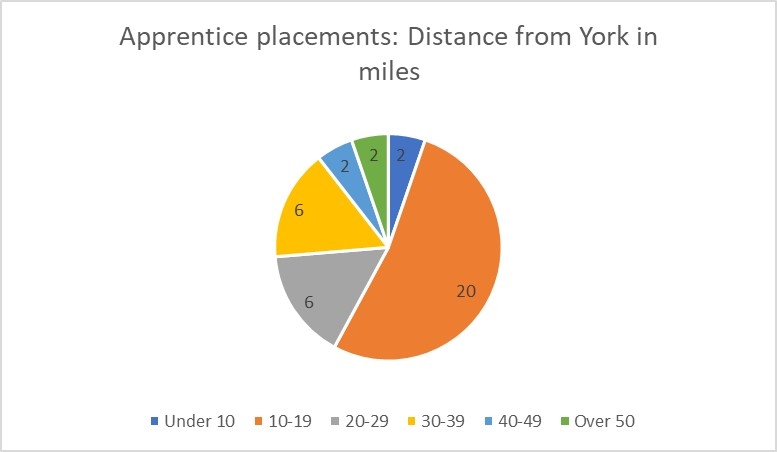 Master and Apprentice disputes 1879-83
At least nine cases of disputes between master and apprentice were considered by the Guardians. Most related to indentures made prior to 1879, and included:
James Edwards of Myton asked Guardians to take back his apprentice Walter Weller. The Board on 30 January 1879 decided it could not agree to this request, and on 17 April 1879 Edwards offered to repay the first premium.

On 14 August 1879 the Clerk was instructed to write to Richard Snell of Sutton on Forest to appear before the Board, to answer a complaint against him by apprentice Edward Plows. A fortnight later a letter from Snell reported his apprentice had run away.

The Board on 16 December 1880 noted a letter from Jennings, Driffield magistrates clerk, dated 10 December, regarding master Martin Taylor, a Bainton blacksmith. A postal order valued at £4 2/- was enclosed, the premium returned to York Guardians, less 18/- for costs of proceedings, magistrates having consented to cancellation of indentures for George Garry. This indenture had lasted less than six months, as the York Board had agreed Garry's one month trial on 17 June, Driffield PLU reporting on 8 July that it had no objections to the binding.

On 16 June 1881 John Robinson Bowling was invited to attend a Board meeting to answer a complaint made against his apprentice.

The 1 December 1882 Board meeting considered a letter from W. Hall of Batley Carr, Dewsbury, regarding his apprentice William Boulby. Guardians resolved they could not be party to cancelling indentures and that, 'as the boy's settlement is now at Batley, it will be be at his peril if by his action he becomes chargeable to the Union'. At the Board meeting on 22 March 1883 a letter was read from W. Hall of 12 Cross Mount Street, Batley Carr, Dewsbury dated 20 December, with reference to his apprentice Boulby. York Guardians ordered its Clerk to reply that they declined to interfere.

It was reported to Guardians on 5 October 1882 that a letter from Joseph Spencer, Hebden Bridge, tailor, dated 26 October, referred to his apprentice William Jackson. It was agreed the Board could not interfere between him and his apprentice, and that Spencer attend the Board meeting on 9 December when a letter from him was read, regarding cancellation of indentures.

On 22 Nov 1883 the Board agreed to write to the Leeds Poor Law Union about the conduct of Thomas Vasey, confectioner, towards his apprentice Henry Usher. And on 29 Nov. 1883 a letter of 27 November from the Leeds RO was received, with a copy of his report on Usher's alleged ill-treatment.
Further research
Consider using data to research subsequent lives. To what extent did apprenticeships remove individuals from a cycle of poverty as desired by the central poor law authority, and the Board of Guardians?
Consider how local research might contribute to research elsewhere, such as that of Patrick Wallis at the London School of Economics

www.patrickwallis.net
Primary sources
Lumley, W. G. Manual for Relieving Officers (3rd edition) 1888, pp. 53-4; 112-113. Explore York Archives PLU/11/5/4/9.
Research guides:
York Poor Law Union Board of Guardian Minute Books 1879-83, Explore York Archives PLU/1/1/1/21-23.
Secondary sources
Jane Humphries, Childhood and Child Labour in the British Industrial Revolution (Cambridge, 2010). Sources used include hundreds of working-class autobiographies.
F. M.L. Thompson, The Rise of Respectable Society: A Social History of Victorian Britain, 1830-1900 (Fontana, 1988).
This analysis of the experience in Leicester shows the city's Guardians attempted to ensure that apprentices were treated fairly. Measures adopted included regular visits to employers to see the apprentices at work and the records of these visits form the basis of the article. They are analysed to show: i) patterns of apprenticeship; ii) the age of apprentices and their length of service; iii) occupational patterns; and iv) the geographical patterns apparent from data on the place of apprenticeship. 
Website
Dick Hunter, Elaine Bradshaw and Judith Hoyle contributed to this paper. Please follow this link for a downloadable pdf version.