18th November 2015
New traders celebrate historic traditions
It's good to see two newcomers complementing our range of independent traders on Bishy Road. This gives us a chance to look back at the previous history of these two particular shops. We're thrilled to see that both are reflecting some old traditions.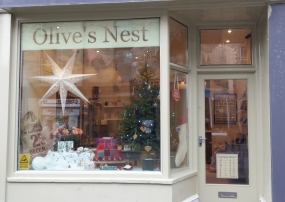 Olive's Nest is on the corner at no 4 Scarcroft Road, selling attractive cards and unusual gifts. There is no Olive – it follows a long line of pseudonymous shops in Bishy Road (don't tell your children but there is no Stanley or Ramona and there hasn't been a Mr Pexton since the early 60's).
Olive's Nest is run by Gaynor Parr-Manley (you may know her husband Dave 'Do it for You' Wilson, who has been beavering away to make her shop look good). These premises had been vacant for a while, after Evolve Hairdressing moved across the road. In the 1990's it was Origins Hair & Beauty Studio. Some of you may remember Novak's Watch Repairs here from the late 1940's. Rob Stay took this picture in 1984 and remembers Novak's then as a rather dour Polish clock repairer, carrying on what was clearly a dying trade. People have also told us that if you only had one watch then Mr Novak would lend you one while yours was being fixed, like a 'courtesy' car!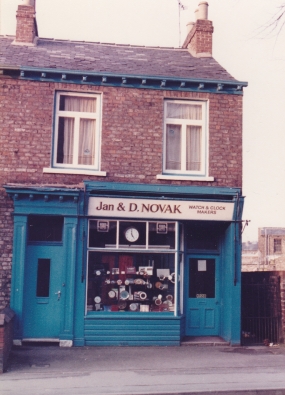 One resident recalls that she and her friends always used the clock in the window to know what time it was for school and going into town. Gaynor is planning to follow this tradition by installing a clock in the shopfront too. Hope you realise Gaynor that you'll be responsible for getting a lot of children to school on time!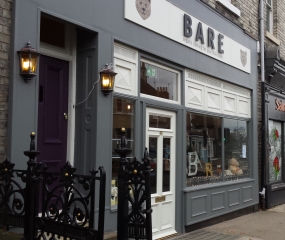 The other new trader is Ellie McManaman, whose shop BARE is selling organic clothing for small children from 0-5,  next to Sainsbury's at no 45 Bishopthorpe Road, where Glen and Julio had their hairdressing salon. This delightful range of clothing is especially good for young children with sensitive skins.
This shop was originally a butcher's shop, and we found out quite a lot about its history – see our previous blog post. Local residents have told us about their memories of the butchers. For example one told us that when she was very little, around 1965, her grandma took her shopping for sausages there. Another told us a sad tale from around 1960 of going to the butchers to collect her mum's meat order. She put the joint in her saddle bag and cycled home up the hill to Norfolk Street. When she arrived home the joint had disappeared, it must have bounced out of her saddle bag when she went over a bump. She went back to look for it but found no trace, and got into trouble for that.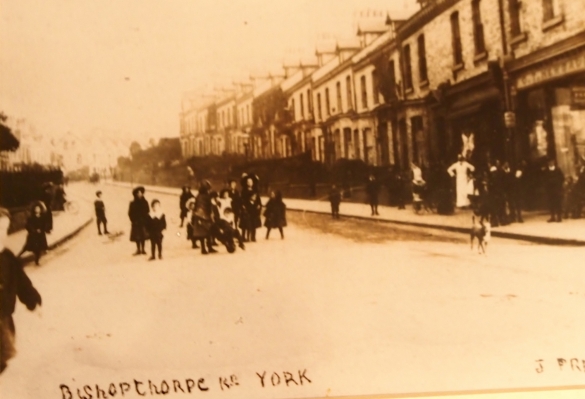 Ellie will be living in the house next door, and like Gaynor is keen to keep up traditions. She's kept the old butchers' hooks and rails in the ceiling of the shop. Even the window display still retains the sloping surface where the meat used to be displayed.
It's interesting that these new traders are both female, as the Bishy Road shops have a long history of female shopkeepers, especially around wartime. One day we'll do some more research on that aspect.
Do let us know if you have any more shop memories.