Thomas Albert Croft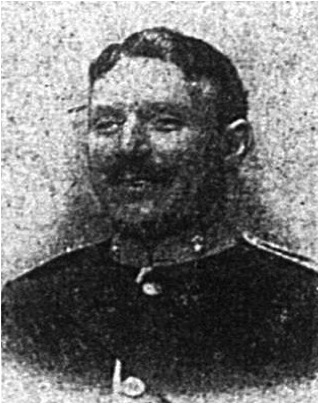 pictured right, Thomas Albert Croft, from the Yorkshire Herald 5 April 1915
Sergeant Thomas Albert Croft was 33 years old when he was killed in action on 10 March 1915. He had lived with his family in one of the many small terraced houses in Cygnet Street. He attended Cherry Street School and probably left there when he was 14. He must have had some aptitude and interest in music as in 1906 he joined the West Yorkshire Regiment as a musician. By the time the First World War started in 1914, Thomas had done over 7 years service with the army, including a 3 year stint in Malta, and was a lance sergeant.
He went to the front in October 1914 with the West Yorkshire Regiment, landing in France, and was at that time attached to a Maxim gun section. He had been trained at the School of Musketry in Hythe, Kent on how to use the Maxim gun, which was one of the first machine guns. It was certainly not like today's machine guns - weighing over 9 stone, it took a team of around 13 men to operate.
Thomas took part in and survived the Battle of the Marne in 1914 but was to die at the Battle of Neuve Chapelle. The battalion war diary in the days leading up to the battle gives a miserable picture of cold, wind and rain. The men had their last hot meal at 1 am, and the attack started at 7.30 in the morning. By 2 pm on March 10, 1915, of the second battalion of the West Yorkshire Regiment, there were 23 men killed, 51 wounded, and 3 missing. Thomas, by then a sergeant, was one of these men.
Thomas's father was 62 years old at the outbreak of war and had been a staunch member of the volunteer force of the Green Howards in York for over 30 years. He was employed at Terry's, then in Clementhorpe, as a confectioner almost all his working life, but fell into poor health after 1915.
Thomas had 3 brothers. At the time of his death, his elder brother Alfred was a police sergeant in Liverpool. His brother James was serving with the Green Howards and was later to win a military medal. Another brother, David, was serving with the Royal Navy submarine service. David was called to identify his father when further tragedy struck the family.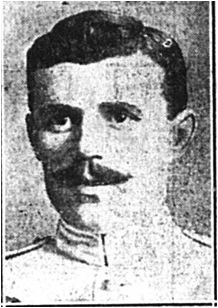 Pictured right, James Croft, from the Yorkshire Herald 7 October 1916 
Thomas's father died at his home at 6 Cygnet St when his clothes were accidentally set alight by a candle as he lay sick in bed. He is buried in York cemetery. Thomas's mother Minnie, his sister Annie, and his brothers survived the war.
Sergeant Thomas Albert Croft has no known grave but is commemorated at Le Touret memorial in France. He is remembered on the Cherry St School war memorial and the parish war memorial, both in St Clements Church in York. He is also commemorated on the St Mary Bishophill Junior Church War Memorial and in The King's Book.
There were well over 20,000 casualties at the Battle of Neuve Chapelle. The war continued for over 2 more years.
Sources
Commonwealth War Graves Commission 
King's Book
West Yorkshire Regiment war diaries 
Yorkshire Herald 5 April 1915
Yorkshire Herald 7 Jan 1918
Yorkshire Herald 26 Jan 1918