First World War dead from our area
You might not be aware of the tremendous impact of the First World War on our neighbourhood. Many servicemen who lived in our streets were either killed or injured in the service of their country. This map locates the next-of-kin of military personnel killed as a result of the conflict. This is just one district of York outside the city walls: Nunnery Lane, Clementhorpe and South Bank. The information came from the War Office, but it's probably provisional and incomplete, as there would have been later casualties. Exact house locations may differ in some cases due to changes to street numbering since 1918.

Next-of-kin addresses for local war dead    
 (Data source: Explore York Libraries and Archives, TC 1378/1.)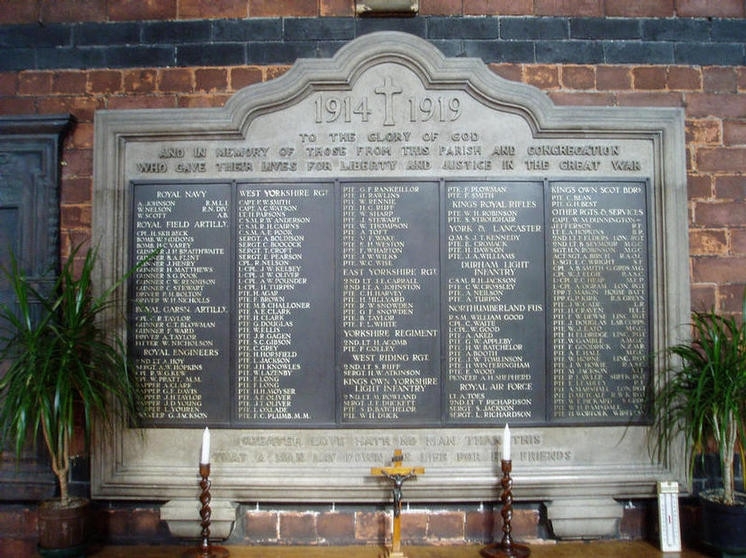 St Clement's Church Parish Memorial (for more information on this see the UK National Inventory for War Memorials)
Arthur Toft and Maurice Challoner
Arthur Toft died in Belgium on 19 April 1918 after being wounded by a flying shell fragment. Maurice Challoner was killed in action in France on 8 May 1917. They had attended Cherry Street School, Clementhorpe, and are commemorated on memorials in St Clement's Church.Arthur's parents were from Sherburn, and Arthur spent the early part of his life in Appleton Roebuck. By the time he was eight the family had moved to a more urban area again to 47 Caroline Street, off Bishopthorpe Road, York. By 1911 they had moved to 87 Nunnery Lane.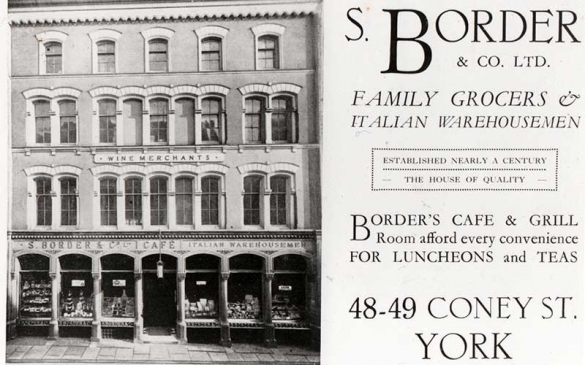 Maurice Challoner lived nearby at 86 Nunnery Lane, the family having moved from 15 Bishopthorpe Road. Both boys left school at fourteen. Maurice went to work in his father's pawnbroker business, and Arthur to S. Border & Son, a grocer and café in Coney Street. Life experience could not have equipped them for war which was declared in August 1914.Arthur joined the 1/5th West Yorkshire Regiment in May 1915 and was at the front just over a year later. Maurice left the family business to join the 1/5th West Yorkshires in March 1916. The following September Arthur was gassed and returned to England for treatment. He recovered sufficiently to return to action in June 1917, but Maurice Challoner had been killed in action in May, aged 21. Less than a year later Arthur was dead, aged twenty. Both boys were the youngest sons of their families.Private 201209 Arthur Toft is buried at Hooge Crater Cemetery, West Vlaanderen, Belgium.
Private 201986 Maurice Challoner is buried at Croisilles Railway Cemetery, Pas de Calais, France and is commemorated in the King's Book in York Minster.
List of men from our area who were killed in WW1
For the men recorded on the Scarcroft School Memorial follow this link.
While we do have a small amount of extra information about some of the other men who died, we know very little about them in general. We're keen to make contact with their descendants, to fill gaps in their details or make corrections. (See the bottom of the page for a key to abbreviations). You may even have memorabilia such as diaries and letters from the period. If you are able to help please contact us on enquiries@clementshall.org.uk
| Surname | First names | Rank | Age | Address of next-of-kin | Died | Regiment | UK War Memorials |
| --- | --- | --- | --- | --- | --- | --- | --- |
| Acomb | Horace | 2nd Lt |   | 5 South Parade | 21/08/1916 | Yorks Hussars |   |
| Agar | Henry | Pte. |   | 19 Colenso St. | 27/03/1918 | 21 btn. WY | KB, SC |
| Aked | Arthur | Pte. | 25 | 27 Wentworth Rd. | 29/11/1917 | 17 btn. NF | KB, SP, SC |
| Anderson | Robert | C.S.Mjr. | 25 | 62 Lr Ebor St | 18/10/1916 | 5 btn. WY | SB,LR,SC,KB |
| Atkinson | Herbert Watson | Srgt. | 26? | 2 Scarcroft Hill | 14/09/1916 | 8 btn. WR | KB, SC,SCS |
| Balance | Samuel | Srgt. | 20 | 42 Prices Lane | 12/01/1916 | Kings (L'pool) |   |
| Barnes | John | Pte. | 31 | 28 Dove St | 13/11/1914 | 8/Coy/2nd/KOYLI | KB; SM |
| Batchelor | Harry | Pte. | 30 | 15 Charlton St. | 28/04/1917 | North'land Fus. |   |
| Bean | C | unknown |   | 24 Adelaide St | unknown | unknown |   |
| Bell | Thos Francis | Pte. | 27 | 18 Charlton St | 23/08/1918 | 2 bn KOYLI | KB |
| Best | George Henry | Pte. | 27 | 3 William St. | 19/04/1918 | KOYLI |   |
| Birch | Arthur | Cpl. | 28 | 21 Drake St. | 14/02/1919 | RAOC |   |
| Blowman | Charles Wm. | Gnr. | 22 | 22 South Bank Avenue | 06/07/1917 | RGA |   |
| Boldison | Arthur | Lance Sjt. | 26 | 3 Anne Street | 14/07/1916 | 1st/5th btn. WY (POWO) |   |
| Bolton | Philip Henry | Dvr. |   | 43 Victoria St. | 23/08/1916 | RFA | KB; SC,SCS |
| Bond | Edward | Pte. |   | 21 Brunswick St. | 11/02/1915 | EYR | Not in KB |
| Booth | Arthur | Pte. | 27 | 72 Brunswick St | 28/01/1917 | KOYLI | KB |
| Braithwaite | John Henry | Gnr. | 20 | 11 Colenso St. | 12/03/1918 | RFA | KB; SC, SCS |
| Brooks | Albert | Guardsman |   | 2 Board St | 25/09/1916 | Grenadier Guards |   |
| Brown | Fred | Pte. | 28 | 14 Millfield Rd. | 29/06/1919 | 2 bn WYR | SCS |
| Brown | John Edward | Capt. | 33 | 44 Scarcroft Rd. | 14/09/1918 | RFA | KB |
| Butcher | William | Spr. | 21 | 39 Vine Street | 31/08/1919 | RE |   |
| Butler | George H. | Cpl. | 29 | 30 Ebor Street | 28/09/1917 | RFA |   |
| Cade | John | Pte. | 24 | 7 Clementhorpe | 09/06/1916 | 1st/5 Lincs | KB |
| Cairns | Robert Henry | C.S.Mjr. | 29 | 15 Queen Victoria St. | 21/02/1916 | WYR | KB |
| Cammack | George Frederick | Private |   | 13 South Parade | 23/10/1915 | Army Service Corps |   |
| Cammidge | Charles Wm. | Pte. |   | 1 Price St | 23/07/1916 | 12 bn. WY | SM; Not in KB |
| Campbell | John | Capt. | 25 | 29 Nunthorpe Ave | 28/04/1917 | 2 RM Marine Inf |   |
| Carr | Herbert | Pte. | 26 | 8 Beresford Street | 31/08/1917 | Northants Yeomanry |   |
| Carroll | John Edwin | 2/Lt. | 19 | 5 Cygnet St | 03/05/1917 | 28 bn. R. Fus | KB; SM, SCS |
| Challoner | Maurice Blyton | Pte. | 20 | 86 or 88 Nunnery Lane | 08/05/1917 | WYR | KB, SCS |
| Clark | Herbert Henry | Pte. | 26 | 62 Cromwell Rd. | 11/01/1917 | 4 bn. YR | D |
| Clark | Aaron | L/C. | 34 | 100 Brunswick St | 04/10/1916 | RE | KB |
| Clark | Harry | Pte. | 33 | 79 Caroline St/Price St. | 16/10/1916 | WYR | SCS |
| Close | Archibald | Gnr. | 35 | 'Havercourt', Bewlay St | 24/10/1917 | RFA |   |
| Coates | Thos Nathaniel | Dvr. Far. | 36 | 4 Nicholson's Terrace, Price St | 12/05/1917 | Army Service Corps | SM |
| Croft | Thomas Albert | Srgt. | 33 | 6 Cygnet St. | 10/03/1915 | 2 bn WYR | KB; SM, SCS |
| Cromack | Ernest | Pte. | 26 | 38 Victoria St | 11/11/1916 | YLR | KB |
| Daggett | Harry | Able Smn. | 20 | 28 Dale St. | 17/06/1917 | HMS Tartar | KB SM PN |
| Davis | John George Edgar | Pnr. | 23 | 40 Lower Ebor St | 07/06/1917 | RE | KB, SCS |
| Dawson | Harry A. | Pte. | 24 | 1 Lower Ebor St | 24/01/1916 | 2 bn YLR | KB |
| Dawson | John Bertram | Pte. | 28 | 39 Brunswick St. | 04/08/1917 | 5 bn KOYLI | KB |
| Dewse | Frederick | Pte |   | 7 Spenser St | 03/04/1917 | Lincs Regiment |   |
| Dick | Harold James | Gnr. | 22 | "Langholme", B'thorpe Rd. | 22/03/1919 | RG Artillery | KB Buried York Cemetery |
| Dickenson | Harold Robert | Gnr. | 35 | 2 Wilson's Yard, Dale St. | 20/01/1918 | 93 bgde RFA | KB |
| Douglas | Jack | Pte. | 31 | 7 River St. | 10/09/1917 | Lab Bn YR | KB |
| Douglas | George | Pte. | 33? | 7 25 L. Ebor St. | 29/03/1918 | WY | KB |
| Eastwood | Ernest | Pte |   | Curzon Terrace | 11/04/1917 | Highland Light Inf. |   |
| Edgar | John Geo Davis | Pte. | 23 | 40 Lower Ebor St. | 17/06/1917 | 47 sig. RE |   |
| Elders | John Francis | 2/Lt. | 24 | 50 Thorpe Street | 28/10/1917 | London Rgt. |   |
| Ellis | Sydney | unknown |   | 43 Moss St | unknown | unknown |   |
| Empson | Frederick Lancelot | unknown |   | 29 Wentworth Rd |   | unknown |   |
| Gambles | William Dennis | Pte. | 23 | 19 Clementhorpe | 20/09/1917 | 2 Cy Australian Mach Gun Corps | KB |
| Gaunt | Edward | 2/Lt. | 32 | 67 Brunswick St. | 28/09/1916 |   | KB |
| Gee | Frederick Wm. | Able Smn. | 25 | 9 Nunmill Street | 29/02/1916 | HMS Alcantara |   |
| Gibson | Sydney Charles | Pte. | 24 | 26 Scarcroft Rd. | 01/07/1916 | 10 bn WY | KB, SCS |
| Gladwin | Albert Ewart | Pte. | 20 | Kentmere House, Scarcoft Hill | 31/07/1917 | 1st bn Royal Fusiliers | KB |
| Glover | Matthew Henry | Gnr. | 25 | 82 Queen Victoria St. | 20/09/1918 | Royal Garrison Artillery | KB SP |
| Goodrick | Frank | Tpr. | 35 | 5 Windsor St. | 09/08/1916 | NZEF | KB |
| Goodwill | C. | 2/Lt. | 29 | S'field Cot. Swann St. | 03/09/1916 | 5th btn. WY (POWO) |   |
| Gray | Charles | Pte. | 21 | 25 Brunswick St. | 25/07/1917 | 1st/5th WY | KB |
| Haddington | Arthur Wm. | Cpl. | 19 | 21 Norfolk Street | 06/12/1917 | 2nd/4th btn. Lincs. Rgt. |   |
| Hall | George Wm | Spr. | 26 | 33 Lower Ebor St. | 13/10/1916 | 69 Field Co. RE | TS; KB |
| Hall | Henry Stewart | Pte. | 21 | 34 Dove St. | 15/09/1916 | 8 bn. KOSB | KB; SM,SCS |
| Hall | Albert Edward | Pte. | 30 | 25 Trafalgar St. | 27/05/1918 | 8btn.Machine Gun Corps |   |
| Hardisty | Geo James | Pte. | 21 | 10 Cambridge St. | 28/04/1917 | 25btn. NF (Irish) |   |
| Harton | Thomas | Pte. | 27 | 17 River St | 17/02/1915 | 2 bn. EY | KB |
| Hawkins | Alfred | Pte. | 19 | 33 Nunnery Lane | 02/07/1916 | 10bn. WY | KB |
| Hick | George | Pte. | 32? | 3 Swann St. | 03/08/1916 | 1st/5th bn. WY | TS SM |
| Holmes | R.E. | unknown |   | 79 Curzon Tce | unknown | unknown |   |
| Hopkins | Eric Norman | 2/Lt. | 24 | 48 Bishopthorpe road | 05/05/1915 | Beds. Rgt. |   |
| Hopkins | Alan Walter | Srgt. | 23 | 1 Scarcroft Hill | 10/06/1918 | RE | KB; SM,SCS |
| Horsfield | Harold | Pte. | 18 | 25 Russell St. | 23/02/1916 | 1st/5th bn. WY | KB |
| Howe | John William | Whlr. | 35 | 1 Russell Street | 26/04/1919 | RASC |   |
| Hoy | Arthur | 2/Lt. | 25 | 21 Scarcroft Rd. 16 Beech Av, Holgate | 03/11/1916 | RE |   |
| Jackson | Thomas | S.Mjr. | 36 | 15 Brunswick St. | 26/01/1915 | 2 bn. WY | KB |
| Jackson | Lawrence | Pte. | 24 | 8 Nunnery Lane | 03/05/1917 | 2/5th bn. WY | KB, SM |
| Jackson | Mat Wm. | Pte. | 32 | 15 Brunswick St | 25/04/1918 | Australian Bgde | KB |
| Jackson | Robert Henry | C. S.Mjr. | 27 | 15 Brunswick St. | 10/11/1915 | Durham LI |   |
| Jackson | Stanley | Marine Pte. | 27 | 8 Nunnery Lane | 23/04/1918 | HMS Vindictive | KB, SM |
| Johnson | Arthur J. | Private |   | 3 Ovington Terrace | 06/07/1916 |   |   |
| Johnson | J.S. | Pte. |   | 2 Beal's Yard, Dale St. | 23/04/1918 | HMS Vindictive | SM |
| Johnson | Alexander ??? | 2/Lt. | 27 | 168 Bishopthorpe Rd. | 05/03/1918 ? |   | KB? SCS |
| Kelsey | John William | Lce Corp |   | 28 Adelaide St | 11/09/1916 | WYR |   |
| Kennedy | John Thomas | Srgt. | 39 | 33 Albermarle Rd | 22/08/1915 | 6 bn. York & Lancaster | KB |
| Kenny | Martin Wm.. | Gnr. | 32 | 26 Kensington St. | 04/04/1917 | RGA | KBF |
| Kew | Richard Wallace Gordon | Cpl. | 27 | 64 Thorpe St. | 16/10/1917 | RE | KB,LR, FCS |
| King | Arthur | Pte. | 19 | 6 Beresford St. | 26/08/1918 | KOYLI |   |
| Kirk | J P | unknown |   | 59 Finsbury St | unknown | unknown |   |
| Knowles | John Henry | Pte. | 21 | 44 Victoria St. | 23/11/1915 | 1/5 bn. WY | KB |
| Latto | Lindsay Robert Joseph. | L-Cpl. | 27 | 97 Nunnery Lane | 23/04/1917 | R. Highlanders | KB,St Pauls, Holgate, Basra |
| Lawler | Reginald | Pte |   | 9 Spenser St | 20/07/1916 | Suffolk Regiment |   |
| Lazenby | William | Pte. | 35 ? | 22 Colenso St. | 03/05/1917 | 2/5 bn. WY | KB |
| Long | Fred | Pte. | 24 | 78 Queen Victoria St. | 07/01/1917 ? | 1/5 bn. WY | KB |
| Long | Edward | Pte. | 23 | 62 Kensington St. | 13/08/1915 | 1/5 bn. WY | KB |
| March | Robert Ernest | Bmbr. | 39 | 62 Knavesmire Crescent | 23/05/1917 | RG Artillery | KB,TS |
| Marsh | John William | Pte. | 37 | 27 Dove St | 19/06/1917 | WY | KB, SM |
| Marshall | Arthur | Pte. | 19 | 2 Teck St. | 31/08/1918 | London Rgt. |   |
| Marsham | Edward | Pte. |   | Dale St | 24/09/1918 | 7 bn. Border | TS,SM |
| Mason | Thomas | Tpr. | 19 | 59 Caroline St | 03/05/1917 | H'hold bn. | KB |
| Mitchell | John | Pte. | 19 | 21 Lower Ebor St | 03/07/1916 | 1/5bn. WY | KB, SMSP, SD |
| Mountain | Louis | Pte. | 24 ? | Unknown: probably workhouse | 29/12/1914 | 1 bn. WY | SCT, KB |
| Mountain | William | Pte. | 35 | 29 /35 Moss Street | 04/10/1918 | 2 btn. Yorks Rgt. |   |
| Moyser | Hubert | Pte. | 22 ? | 7 Clement St. | 20/02/1916 | 1/5 bn. WY | KB, SCS |
| Nelson | John Walter | Staff Sergt |   | 14 Spencer St | 02/12/1916 | Royal Horse Artillery |   |
| Neilson | Arthur. | Pte. | 28 | 106 Queen Victoria St | 28/06/1917 | 2 bn. DLI | KB |
| Nelson | Roland | Cpl. | 23 | 4 Spencer Street | 02/10/1918 | WYR |   |
| Newton | Walter | Dvr. | 20 | 39 Kensington St moved to Brunswick St | 26/04/1915 |   |   |
| Nicholls | Wm. Henry | Dvr. | 26 | 22 Ebor St | 20/10/1917 | RFA | KB; TS |
| Nicholson | William Hopper | Ftr. | 20 | 38 Victoria St | 11/08/1917 | RGA | KB,SD, |
| Ogram | Arthur | L-Cpl. | 22 | 10 Fenwick St. | 01/09/1918 | London (RF) | KB; SCS |
| Oliver | John | Pte. | 25 | 4 Lovell Street | 28/09/1916 | WYR |   |
| Parsons | Herbert | unknown |   | 8 Southlands Rd | April/May 1916 | WYR |   |
| Pexton | Charles Wm. | L.Sto. | 35 | 45 North End Grove North End Portsmouth | 26/11/1914 | HMS Bulwark | Portsmouth Naval, 4 |
| Pickard | Walter E. | Pte. | 19 | 4 Fenwick St. | 13/09/1914 | 1 bn.Scots Guards | KB |
| Plowman | Fred | Pte. | 32 | Slip Inn ? | 08/11/1917 | KOYLI; and NF |   |
| Pollard | George Edwin. | Pte. | 23 | 2 Brunswick Terrace/33 Bootham Square | 21/03/1918 | 10 bn. WY | KB |
| Pook | Albert E. | Cr.Sgt. | 35 | 16 St Clements Grove | 12/10/1918 |   |   |
| Porter | Edward | Pte |   | 25 Victor St | 20/09/1914 | WYR |   |
| Pounder | Alfred William | L-Cpl. | 20 | 52 Moss St | 27/12/1915 | WY | KBTS |
| Pratt | Walter | Cpl. | 30 | 68 Scott St | 07/08/1917 | RE | KB;TS;SM |
| Preston | Herbert | Pte. | 30 | 6 or 9 Cygnet St. | 02/09/1916 |   |   |
| Ragen | Arthur | Srgt. | 41 | Caroline Street | 06/08/1917 | Vet Corps |   |
| Ramsdale | Wm. Herbert Smith | Pte. | 26 | 14 Lower Darnboro' St | 25/04/1917 | Seaforth Highlanders | KB |
| Rankeillor | George Frederick. | Pte. | 22 | 35 Victoria St. | 10/11/1917 | 9 bn. WY | KB |
| Rawling | Herbert | Pte. | 37 | 62 Russell St. | 28/12/1917 | DLI/ Labour Corps 38 Co | KB |
| Richardson | Linden | Srgt. Pilot | 19 | 9 Millfield Rd | 24/04/1918 | RAF | KB. Buried York Cemetery Sec.A Grave 6. 2820 |
| Robinson | Donald James | Pte |   | 10 Cherry St | 11/04/1916 | EYR |   |
| Robinson | Wm. Henry | Rflm. | 23 | 72 Nunthorpe Rd. | 15/09/1916 | 7 bn Rifle Bgde | KB |
| Robinson | Harold Norman | Pte. | 19 | 23 Charlton St | 13/02/1918 | Machine Gun Corps | KB; SMLG,SCS Cadet @ Arch. Holgate School |
| Robinson | Arthur | Pte. | 36? | 3 Emily St. | 12/10/1918 | Manchester/WY | KB |
| Ruff | Samuel | 2/Lt. | 24 | 'Belsize', 48 Scarcroft Hill | 17/11/1916 | D of Wellington's 1st/2nd bn. WR | KB |
| Scott | Wallace | Able Smn. | 29 | 48 Drake St. | 01/11/1914 | HMS Good Hope RN | KB; Naval Portsmouth,2 |
| Scott | Arthur | 3rd Mate | 19 | 'West Lee' Nunthorpe Avenue | 13/10/1917 | SS Eskmere MM | KB; Tower Hill London |
| Seale | Albert | Pte. | 17 | 8 Beresford Terrace | 23/07/1915 | WYR |   |
| Sellers | Rbt Edwards | Pte. | 21 | 47 Swann St. | 05/11/1917 | 9 btn. WY (POWO) |   |
| Seymour | Bertram | 2/Lt. | 19 | 14 Scarcroft Road | 31/07/1917 | Machine Gun Corps | KB |
| Sharp | William | Pte |   | 79 Sutherland St | 21/08/1916 | WYR |   |
| Shepherd | Alfred Henry | Pte. | 33 | 14 Knavesmire Cres | 06/10/1918 | I/8 bn. LF/NF | KB (A Freeman) |
| Siddons | William Henry | Gnr. | 19 | 38 Vine St. | 29/09/1917 | RFA | KB,SCS |
| Simpson | Lancelot | Lance Corpl. |   | 18 East Mount Rd | 26/03/1918 | North Staffs Regt. |   |
| Sims | Wm .Ewart. | Pte. | 27 | 20 Moss St | 23/04/1917 | Kings (L'pool)Cyclist | KB;TS |
| Skilbeck | Henry (Harry) | Corporal |   | 18 Finsbury St | 29/03/1918 | RFA |   |
| Smith | Arthur Basil | L-Cpl. | 21 | 4 Colenso St. | 01/12/1917 | 2 bn Gren. Guards | KB |
| Snowden | John Robert | Lance Corpl. |   | 38 Finsbury St | 06/10/1914 | WYR |   |
| Snowden | Robert Wm. | Pte. | 27 | 6 Dale St. | 27/09/1917 | 8 bn EY | KB; SM |
| Snowden | George Fred | Pte. | 20 | 6 Dale St. | 26/03/1918 | EY | KB; SM |
| Stewart | Charles | Gunner | 29 | 36 Curzon Tce | 21/03/1918 | RFA 331st Brigade | Commemorated on Pozieres Memorial |
| Stewart | John Harper | Pte | 26 | 36 Curzon Tce | 23/04/1917 | WYR 10th Battalion | Commemorated on Arras Index |
| Storey | Cedric W J | unknown |   | 19 South Parade | unknown | unknown |   |
| Stroughair | Stanley | Rflm. | 21 | 13 | 04/09/1916 | 11 bn. KRRC |   |
| Taylor | George Robert | Cpl. | 28 | 16 Victoria St. | 24/03/1917 | RA | ditto |
| Taylor | John Henry | Spr. | 20 | 31 Bishopthorpe Road | 08/07/1915 | RE | KB |
| Thirkwell | Thomas Edward | Pte. |   | 3 Warwick's Court, Nunnery Lane | 15/02/1915 | 1bn Yorks & Lancs | KB; SM |
| Thompson | Walter | Pte. | 31 | 8 Lower Darborough St. | 26/04/1918 | 15/17 bn.WR | KB |
| Toft | Arthur | Pte. | 21 | 87 Nunnery Lane | 19/04/1918 | WYR |   |
| Tomlinson | John William | Pte. | 27 | 35 Caroline St. | 22/11/1916 | 13 bn. (17th?) NF/KOYLI | KB TS (as Jack T) |
| Turpin | Arthur | Pte |   | Lower Darnborough St | 07/01/1918 | DLI |   |
| Vause | Thos Walker | Pte. | 37 ? | 85 Nunnery Lane | 23/08/1918 | 1btn Duke of Cornwall | KB |
| Wake | Vincent Francis | Pte. | 20 | 8 Russell St | 12/08/1916 | 2 bn. WY | KB |
| Walker |   | Major |   | Mill Mount House, The Mount | unknown | unknown |   |
| Webber | Frederick Ernest | Cpl. | 26 | 1 Brown's Ct, Swann St. | 30/10/1914 | 2 bn.YR | KB;SM (as Webber FW) |
| Webster | Harold Stanley | Lt |   | East Mount Rd | 07/08/1917 | EYR |   |
| Wharton | Fred | Pte. | 24 ? | 2 Dale St. | 03/09/1916 | ditto | KB; SM;TS |
| White | Frank L. |   |   | 60 Finsbury St | 31.03/1915 | Scots Guards |   |
| Wilcock | Harry | Pte. | 23 | 42 Price St. | 20/08/1915 | 1/5 bn. WY | KB; SM |
| Wilcock | Reggie | Pte. | 19 | 42 Price St. | 03/05/1917 | 2/5bn. WY |   |
| Wilks | Joseph Wm. | Pte. | 38 | 37 Russell St. | 10/05/1917 | 12 bn. WY |   |
| Willey | Arthur | Bmbr. | 28 | 43 Curzon Terrace. | 11/10/1917 | RGA | KB; SPT |
| Williamson | John Arthur | Pte. | 27 | 37 Argyle St. | 09/06/1917 | 9 bn.Yorks & Lancs | KB |
| Williamson | John | Srgt. | 28 | 21 Cygnet St. ? | 11/05/1916 | 7 bn. KOSB | KB |
| Winteringham | Harold | Pte. | 24 | 76 Thorpe St. | 04/10/1917 | 12/13bn. NF | KB |
| Wise | William | Pte. | 28 | 33 Ebor Street | 18/02/1917 | WYR |   |
| Wood | Ellis | Pte. |   | 18 Cygnet St. | 04/05/1917 | 24 bn. NF(Tyneside Irish) | St Mary's B'hill |
| Wood | Arthur Charles | L-Cpl. |   | 13 Scarcroft Hill |   |   | KB |
| Wortley | Edward | Pte. | 22 | 3 Smiths Yd, Swann St. | 14/11/1914 | 2 bn. WY | KB; SM |
| Wright | Eric | L.Sjt. | 20 | 79 Bishopthorpe Road | 13/10/1918 | Notts & Derby (SF) |   |
| Young | Eric Norman | Pte. | 28 ? | 36 Price St. | 12/10/1916 | 1 bn. WY | KB; SM |
| Young | John Douglas | Spr. | 26 | 42 Millfield Road | 26/09/1916 |   | KB |
Key to memorial abbreviations
D Dringhouses
F Fulford
KB Kings Book (facsimile at Minster Library reception. Bring a magnifying glass!)
LR Leeman Road
PN Portsmouth Naval
SB St Barnabas
SC St Clements
SCS St Clements School
SCT St Cuthberts
SD St Denys
SMLG St Martin Le Grand
SM St Mary's Junior Bishophill
SMSP St Margaret's with St Peters
SP St Paul's Holgate
TS Trinity National School WM, Holy Trinity Church, Micklegate
SPT Shipton Street School
Key to military units cited on the database
DLI Durham Light Infantry
EYR East Yorks Regiment
KOYLI Kings Own Yorks Light Infantry
KOSB Kings Own Scottish Borders
KRRC Kings Royal Rifle Corps
NF Northumberland Fusiliers
POWO Prince of Wales's Own Regiment of Yorkshire
RE Royal Engineers
RFA Royal Field Artillery
RRF Royal Regiment of Fusiliers
RGA Royal Garrison Artillery
WRR West Riding Regiment
WYR West Yorkshire Regiment